Overview: A survey published in 2020 by the International Journal of Impotence Research asked 115 men's health specialists which treatment options they would prefer if they had a sexual dysfunction condition. Many urologists chose the least-invasive treatment options for most conditions, but the study concluded that providers may make different choices as more long-term data become available.
The Survey
Various forms of sexual dysfunction are common in the United States and Europe. Researchers have identified key treatments for each form of sexual dysfunction.
In an effort to better understand men's health specialists' attitudes about those treatment modalities, a 2020 survey published in the International Journal of Impotence Research, asked 115 American and European men's health specialists (75 of whom were urologists) what their personal choices would be if they were diagnosed with sexual dysfunction.
This article focuses on three of the most common sexual dysfunction conditions: erectile dysfunction, premature ejaculation, and Peyronie's disease. It also explores currently available treatments for each and the specialists' responses to the question, "If it were you, what would you do?"
Erectile Dysfunction
What Is Erectile Dysfunction (ED)?
Erectile dysfunction (ED) is the most common sexual problem reported to physicians by men. It is estimated that ED currently impacts an estimated 30 million men in the United States. Untreated ED can cause significant problems with sexual satisfaction and intimacy in relationships.
ED is characterized by the persistent inability to achieve or maintain an erection firm enough for sex. Occasional impotence or struggles with erections are normal. However, if this issue persists, it should be discussed with a medical provider.
Symptoms of ED include:
Difficulty achieving an erection
Difficulty maintaining an erection
Reduced sexual desire
ED can be rooted in mental, emotional, or physiological problems. It can also serve as an early sign for underlying health conditions, such as heart disease. ED can only be formally diagnosed by a medical provider.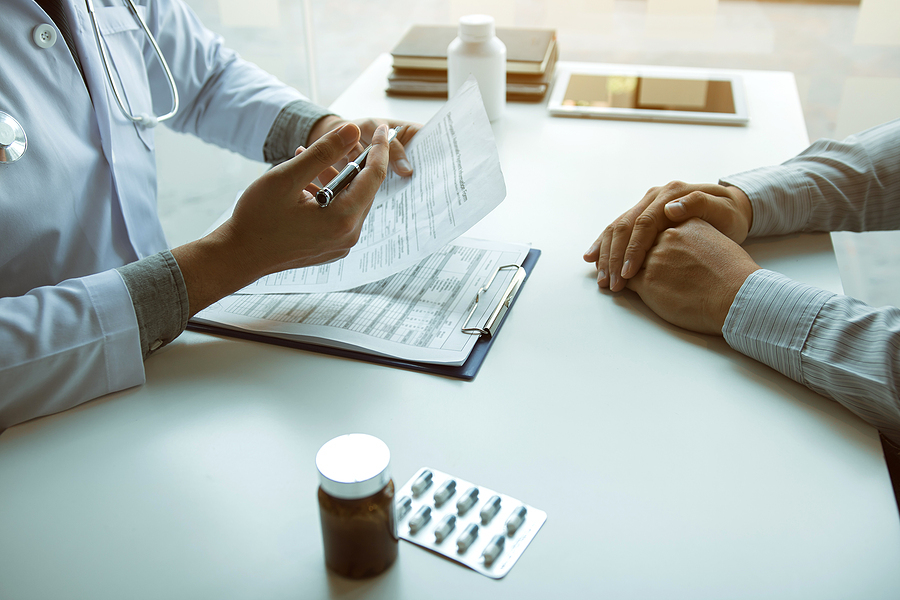 Currently Available Treatment for Erectile Dysfunction
Prescription lifestyle medications are oral medications taken for ED (e.g., Viagra). These medications are also known as phosphodiesterase type-5 (PDE5) inhibitors and they work by increasing blood flow to the penis. Research has demonstrated these medications effective and safe in treating ED for most men.
PDE5 inhibitors can only be prescribed by a medical provider, so they are only available by prescription. Most medical providers prescribe these oral medications in combination with lifestyle changes (e.g., diet and exercise) for patients to achieve the best results. They should not be taken in combination with other ED drugs or dietary supplements marketed to treat ED.
Examples of safe and effective prescription lifestyle medications include:
Specialists Choose Oral PDE5 Inhibitors as the First Line of Defense
When asked about currently available ED treatments, 40 percent of the specialists indicated that they would use an oral PDE5 inhibitor. Their top choices were tadalafil (Cialis) daily (40 percent), tadalafil on demand (38 percent), and sildenafil  (Viagra) on demand (33 percent).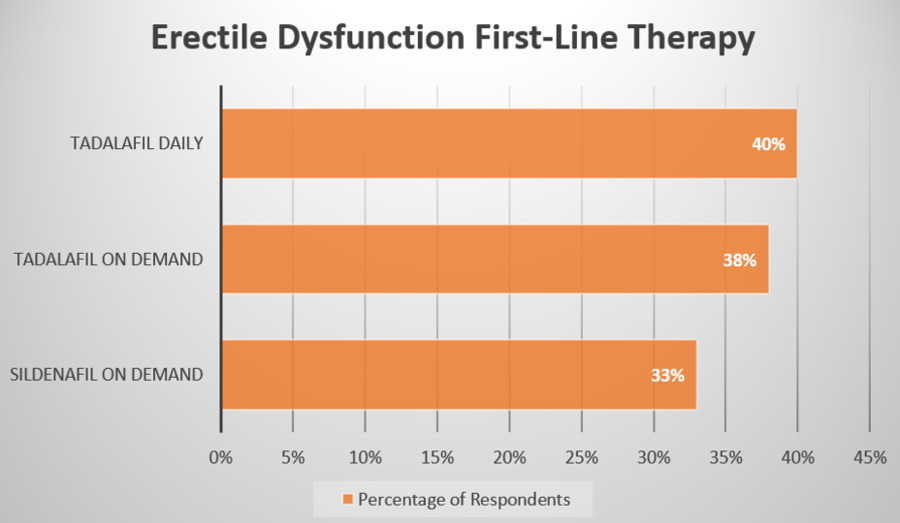 Second-Line Erectile Dysfunction Therapies 
While PDE5 inhibitors have an excellent success rate of around 70 percent, they don't work well for all men. What would urologists choose if PDE5 inhibitor treatment did not work for them?
According to the survey, intracavernosal injection is the most popular choice for second-line ED treatments among survey respondents (73 percent). Of those, 55 percent would choose TriMix injections, and 12 percent would want treatment with intraurethral suppositories. Nine percent of respondents would opt for prosthesis surgery.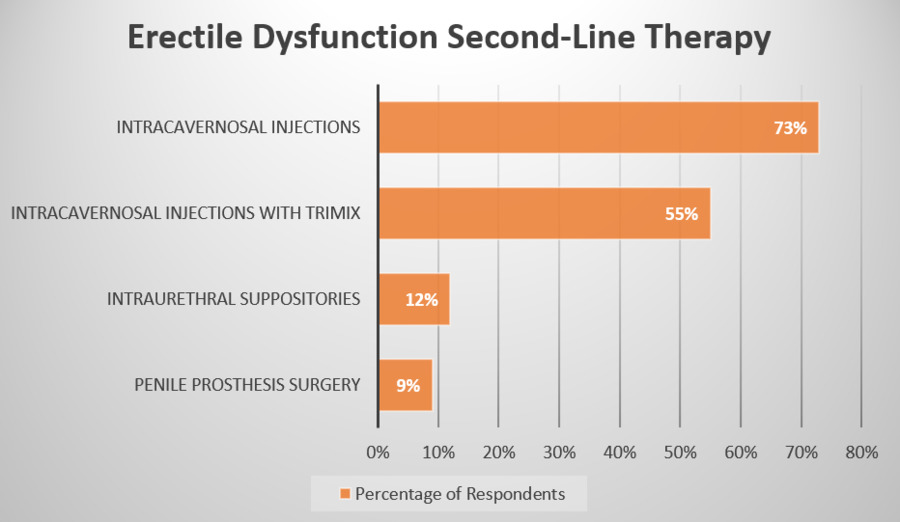 Experimental Erectile Dysfunction Treatment
Interestingly, 74 percent of urologists surveyed said they would consider an experimental treatment (therapies that are still in clinical trials and have not yet been approved by the FDA for treatment of ED). Of those, 67 percent would consider low-intensity shockwave treatment (LiSWT), 15 percent would want to try platelet-rich plasma (also called PRP or "P-Shot"), and 15 percent would consider stem-cell treatment.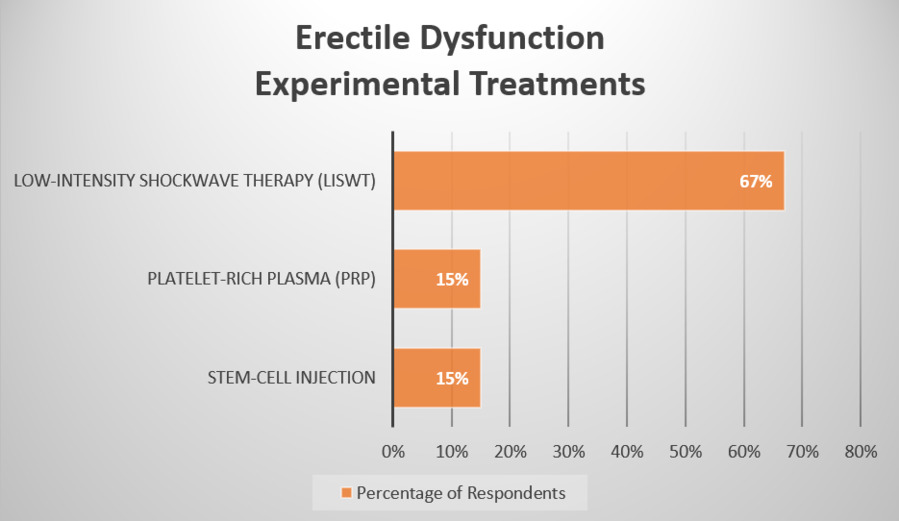 What is Premature Ejaculation (PE)?
Premature ejaculation (PE) is also a common complaint among men of all ages in the United States. PE is the term used to describe a man ejaculating sooner than planned or expected during sex. The exact prevalence of PE in the United States is currently unknown, though it is estimated to be a problem for approximately one in three men throughout his life.
Many men will experience an instance of premature ejaculation at some point in their lifetimes. These occasional instances are normal, though consistent PE may be cause for concern. Frequent PE can be linked to psychological or physiological problems.
Symptoms of potentially problematic PE include:
Avoiding sex over fear of early ejaculation
Ejaculation frequently occurring with little or no sexual stimulation
Feeling distressed, embarrassed, or anxious about sex
Inability to delay ejaculation during most sexual interactions
Men can only be diagnosed with PE by a medical provider. Persistent ejaculation within one minute of penetrative sex is the most commonly used criteria to diagnose PE. The provider will evaluate health and sexual history and may perform an exam to determine if their patient meets the official criteria for PE.
Currently Available Treatment for Premature Ejaculation
Current treatments for PE include behavioral therapy, pelvic floor exercises, sex therapy, prescription medication, and topical anesthetics. Men often benefit from a combination of treatment options to overcome PE symptoms and any related anxiety.
The following medications are commonly prescribed to treat premature ejaculation:
Antidepressants. Selective serotonin reuptake inhibitors (SSRIs) are known to decrease sensitivity and delay climax or ejaculation. Men may have to take them for several weeks before noticing a difference.
Prescription lifestyle medications. Phosphodiesterase-5 (PDE-5) inhibitors are oral medications used to treat erectile dysfunction (ED) but are also prescribed to treat PE. Examples of these medications include Viagra, Cialis/tadalafil, Levitra, Stendra, and Staxyn.
Topical anesthetics. Topical anesthetic creams, sprays, and wipes contain a numbing agent that reduces sensation and sensitivity to sexual stimulation. Topical anesthetics should be applied 10 to 15 minutes prior to sexual activity. The decreased sensitivity can delay ejaculation.
Tramadol. This opioid is traditionally used to treat pain, but it can also decrease penile sensitivity and delay ejaculation.
Men should always speak to a medical provider before taking any medication for PE.
Specialists Would Choose Behavioral Therapy for Premature Ejaculation
Providers overall indicated preferences for sex or behavioral therapy (37 percent) and topical analgesics (25 percent). Interestingly, though, U.S. practitioners were evenly split among the two choices, with 37% opting for behavioral therapy and 36% for topical analgesics. SSRIs were the next most commonly chosen treatment modality for both groups, followed by PDE5 inhibitors and the opioid tramadol.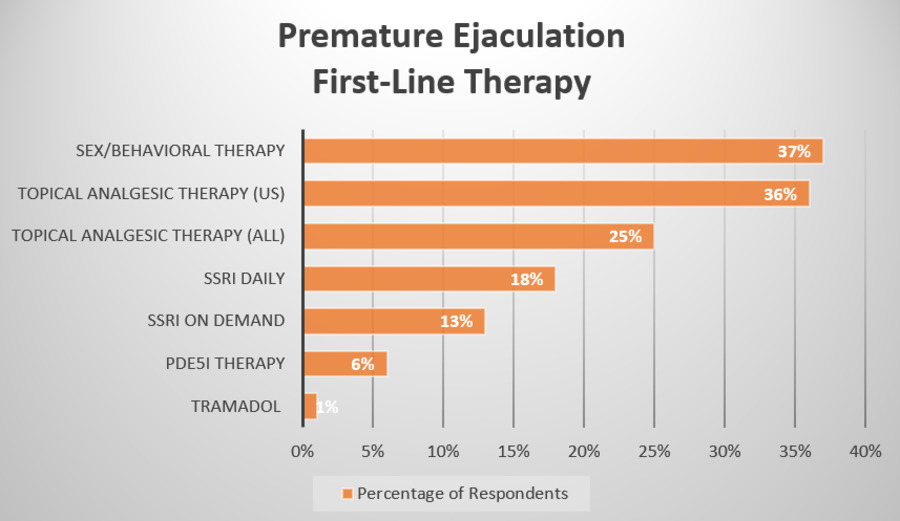 Peyronie's Disease
What is Peyronie's Disease?
Peyronie's disease is a noncancerous disease that affects the penis. It is characterized by curved erections, often accompanied by significant pain. It results from fibrous scar tissue that develops on the shaft of the penis.
The scar tissue that causes Peyronie's is often the result of multiple penile tears or injury to the penis. However, it can also be caused by a single significant injury to the penis. The disease can worsen over time if it is left untreated, making early intervention essential.
Peyronie's disease is not often missed, as it causes a curve or bend of the penis and can be accompanied by extreme pain. Symptoms of the disease include:
A significant bend in the penis
Erectile dysfunction symptoms
Hard lumps on the side of the penis
Pain during intercourse
Sudden changes in the shape of the penis
Men with Peyronie's may also experience challenges in achieving or maintaining an erection. They may even experience shortening of the penis over time. The symptoms and complications of Peyronie's disease can cause extreme emotional distress or anxiety surrounding sex.
Currently Available Treatment for Peyronie's Disease
Treatment for Peyronie's disease is more intensive than for most cases of ED or PE. Common treatment options for Peyronie's include more-invasive options such as incision and grafting, injection treatments, inflatable penile prosthesis, penile traction therapy, and penile implants. Researchers and surgeons have recently worked to develop less-invasive procedures to treat Peyronie's disease, such as extra-tunical grafting.
A patient's Peyronie's treatment plan will be dependent upon the stage of their condition.
Acute phase treatments: Patients in the acute phase of Peyronie's will likely be told to keep a close watch on how their condition develops. They may be prescribed a series of injections or other therapies, such as penile traction therapy. Oral medications are most effective at this stage, and surgery is not usually recommended.
Chronic phase treatments: Patients in the chronic phase of Peyronie's will likely benefit from a combination of treatments. These treatments may be more invasive and include injections, penile traction therapy, or surgery. Oral medications are not typically recommended for those with chronic, or stable, symptoms.
Specialists Would Choose Intralesional Injection Therapy or No Intervention at All
Providers surveyed indicated preferences for intralesional injection therapy, penile traction therapy, and oral therapy (which sometimes includes oral PDE5 inhibitors), to treat acute Peyronie's disease. For chronic Peyronie's, however, the most commonly chosen intervention was none at all, followed by surgery (plication or grafting).
Where to Access Treatment
Many problems with sexual dysfunction can be treated by prescription lifestyle medications, such as Viagra. PDE5 inhibitors are often prescribed for both erectile dysfunction and premature ejaculation. Men with premature ejaculation can also benefit from PDE5 inhibitor therapy, especially when other treatments have failed.
Each person's situation varies, meaning men should always speak to a medical provider before taking any medication to improve erections, reduce early ejaculation, or address painful erections. Medical providers can help to assess the root causes of these conditions and select the best treatment plan moving forward.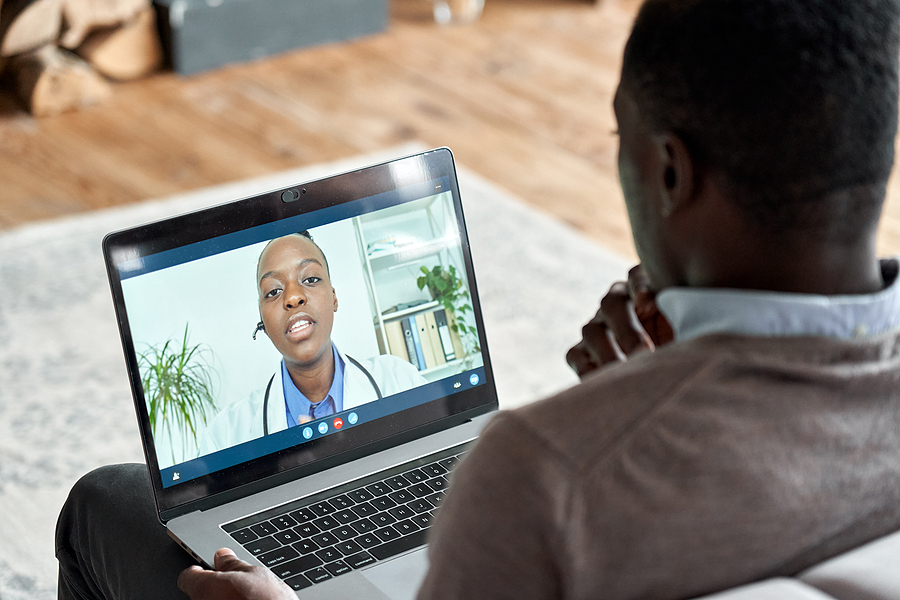 Accessing safe and effective treatment for sexual dysfunction is easier than ever with our services at eDrugstore.com. You can schedule an assessment with a medical provider and choose between a variety of erectile dysfunction treatment options, all online. Learn more today by visiting eDrugstore.com.
Shelby is a public health professional with research and field experience in sexual and reproductive health. She holds a Master of Public Health (MPH) and is a Certified Health Education Specialist (CHES).