Women who would like to keep their skin looking as healthy and as clear as possible might want to take a pass on that tempting glass of chardonnay the next time it's offered. Findings from a recently published study found a close association between the intake of alcohol, particularly white wine, and an increased risk of rosacea.
The study was conducted by a team of researchers from the Department of Dermatology at Brown University's Warren Alpert Medical School, along with a colleague from China's Shandong University. Its results were published in a recent issue of the "Journal of the American Academy of Dermatology."
Health Data from 83,000 Women
The research team's study was designed to clear up some of the inconsistent findings from earlier studies on the link between alcohol consumption and the risk of rosacea. It involved a painstaking review of data from nearly 83,000 women whose health and habits had been tracked between 1991 and 2005 in the Nurses Health Study II. The goal of the latter study was to identify risk factors for major chronic diseases.
For those unfamiliar with rosacea, the American Academy of Dermatology identifies it as a chronic skin disease that begins, innocently enough, with a tendency to blush or flush more readily than other people. However, as it progresses, it may develop into permanent redness on the nose, cheeks, forehead, ears, and chin. It can also spread beyond the face to the back and chest.
Different Forms of Rosacea
Vascular rosacea, the most common form of the skin disease, is characterized by the enlargement of blood vessels just below the skin's surface. The development of pustules and papules on the skin surface is known as inflammatory rosacea.
Rosacea is no respecter of celebrity, having afflicted such notables of past and present as President Bill Clinton, Princess Diana, and comedic actor W.C. Fields. The skin disorder manifests itself in multiple forms, some of which may include a thickening of the skin creating a bumpy texture in affected areas, pus-filled bumps on the face, and even red and irritated eyes, as well as swollen eyelids.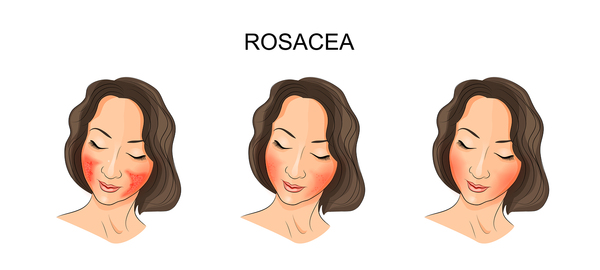 Switch to Red Wine
Although the Brown University study found a close association between the consumption of white wine and hard liquor and an increased risk of rosacea, it found no such link between the intake of red wine and the skin disorder. So women who find it hard to give up their wine altogether might want to trade that glass of chardonnay for a cabernet sauvignon or merlot.
One disclaimer on the red wine: While the meta-analysis of data from the Nurses Health Study II found no link between red wine consumption and an increased risk of rosacea, it was noted that red wine can exacerbate rosacea symptoms in women already suffering from the skin disorder.
Heavy Intake Boosts Risk
The study also found that heavy consumption of white wine and hard liquor increases the risk of developing rosacea. Women who regularly drink five or more glasses of white wine or liquor a day are twice as likely to develop the skin disease as nondrinkers.
While the findings of the Brown University researchers clearly indicate that the consumption of white wine and liquor increase the risk of rosacea, other factors are known to worsen symptoms associated with the skin disorder. According to the National Institute of Arthritis and Musculoskeletal and Skin Diseases (NIAMS), rosacea sufferers should avoid extreme heat, including hot baths; heavy exercise; sunlight; winds; extreme cold; hot or spicy foods and drinks; alcohol intake; emotional stress; and long-term steroid use on the face.
Exact Cause Is Unknown
While the precise cause of rosacea is unknown, NIAMS says the skin disease is most likely to target adults between the ages of 30 and 60, people with fair skin, and women, particularly during menopause. Although no cure is available, there are a number of medications that have been shown to minimize the symptoms of rosacea. NIAMS estimated that roughly 14 million Americans suffer from rosacea. This represents just under 4.5 percent of the total population, which includes many individuals, particularly children, who don't routinely develop the skin disorder.
In analyzing the data from the Nurses Health Study II, the Brown University researchers found that 4,945 of the 82,737 women whose health was tracked developed rosacea. This is just under 6 percent of all the women in the study.
Minimize Alcohol Intake
In summarizing the findings of the meta-analysis, lead author Abrar A. Qureshi, M.D., said those findings add to the growing body of evidence demonstrating the harmful effects of alcohol on the body, including the skin. "Science has identified many factors that may potentially cause rosacea, and our study indicates that alcohol may be one of them," he said. "Women who wish to maintain the health of their skin — and their overall health — should limit their alcohol consumption."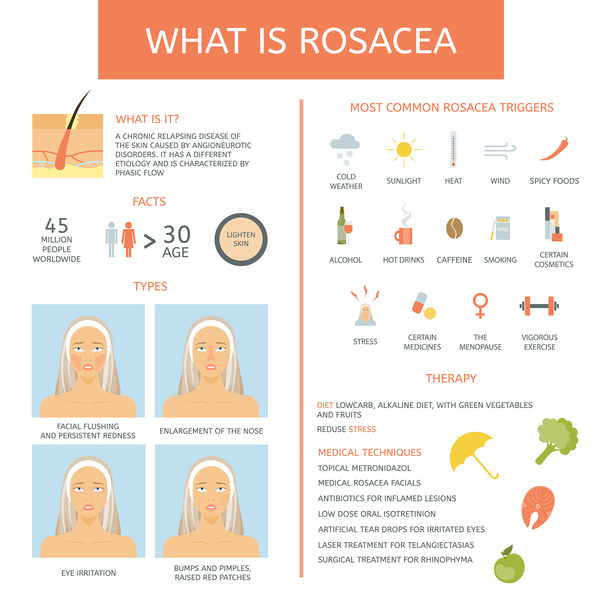 As if its damage to the appearance of facial skin were not problem enough, Danish researchers recently revealed that they had found that people with rosacea face a slightly higher risk of dementia and Alzheimer's disease later in life. Researchers at the University of Copenhagen analyzed medical data on close to 5.6 million Danes whose health histories are chronicled in the country's national health registry. Of those 5.6 million, 82,439 were diagnosed with rosacea.
Findings Explained
Researchers found that people with rosacea had a 7 percent increased risk of dementia and a 25 percent increased risk of Alzheimer's. Although the precise causes of dementia and Alzheimer's are not yet known, scientists have theorized that proteins called matrix metalloproteinases (MMPs) and antimicrobial peptides (AMPs) may trigger the degenerative processes involved in both disorders.
Increased levels of both MMPs and AMPs have been implicated as possible causes of a number of inflammatory diseases, including Parkinson's, and they've also been studied as a potential cause of the inflammation associated with rosacea. In an interview with "Medscape Medical News," Alexander Egeberg, M.D., author of the Danish study, said that "having rosacea does not necessarily mean that they will develop Alzheimer's disease." He pointed out that his study looked at retrospectively collected data that shows an association but does not confirm that "a causal link exists."
Products to Relieve Rosacea Symptoms
As previously noted, no cure is yet available for rosacea. However, there are topical creams and ointments that can help to control the unsightly symptoms of the skin disorder. One such product is MetroGel, which requires a prescription. If you'd like to order this or other prescription drugs online, consider using eDrugstore.com, a reliable online supplier of FDA-approved medications, all of which are sourced from licensed U.S. pharmacies.
If you already have a prescription for MetroGel from your regular doctor, you can fax or scan and email it along with your order to eDrugstore. If you don't yet have a prescription, eDrugstore can arrange an online consultation with one of its team of licensed U.S. physicians who can provide a prescription if your symptoms and overall health indicate that it is appropriate. If this approach appeals to you, click below to get your prescription medications online.