Overview: Premature ejaculation (PE) affects an estimated 30% of men and can cause significant strain on a man's well-being and relationships. While medications like Viagra exist for managing erectile dysfunction symptoms, they often aren't enough to treat PE. While the options we'll be discussing today aren't available yet, eDrugstore.com offers a special premature ejaculation kit that combines the best treatments for PE on the market today.
What is a Premature Ejaculation Patch? 
OK, we're going to be very upfront here: This article is about a new potential treatment for premature ejaculation (PE) that will probably seem pretty unorthodox. And by unorthodox, we mean that this treatment isn't like other PE treatments like numbing creams or erectile dysfunction medications like Viagra. It's a wearable device, like an Apple Watch … but for your genitals!
The Definition of Premature Ejaculation
But first, how do we define "premature ejaculation"? While guys sometimes worry that they won't last as long as they want to, PE is a different beast. There's no absolute definition, but it's when male orgasm occurs within about one minute of penetration. The field of sexology expands this idea to include men who reach orgasm faster than desired such that it causes them distress or other difficulties (even if they last more than a minute).
Now, while PE is absolutely nothing to be ashamed of, it can place considerable strain on a man's well-being and relationships, and there just haven't been any effective non-drug options for it.
Premature Ejaculation Can Be Treated, But Your Options Could Be Better
ED medications are the gold standard for restoring the ability to get and maintain an erection. While they can be helpful for premature ejaculation, they don't work well for all men, and they are most effective when taken with an antidepressant. And some men find that antidepressants suppress their sex drive.
What's more, erection and orgasm are caused by two separate nerve signals, and so ED medications that only correct the erection signal don't really affect the sensitivity that causes premature ejaculation.
Some other treatments for premature ejaculation like numbing creams can even worsen the symptoms of ED. They can also have a negative impact on your partner's ability to climax, in the case of having sex without a physical barrier like a condom. They may help men last longer, but the fact that you're basically putting Novacaine on your pocket rocket can lead to a less-than-enjoyable experience, to say the least.
Long story short, it's important to be open to new ideas.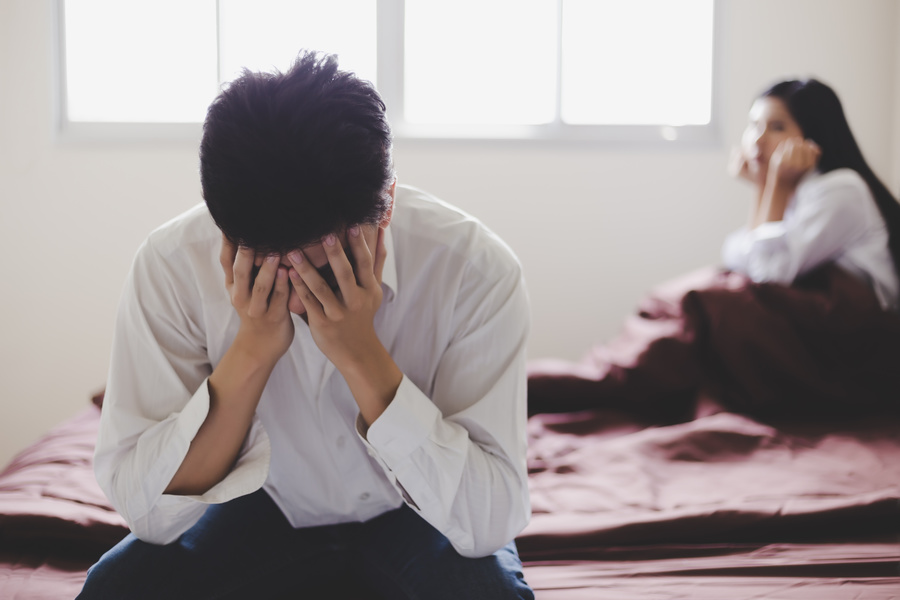 So, How Does a Wearable Device for Premature Ejaculation Work?
The hnew technology in development is pioneering a whole new category of PE treatment through neuromodulation. Instead of working as a drug or chemical, this smart patch is a novel type of "transcutaneous electrical stimulation" device, or TES.
You may be familiar with another iteration of this technology, the TENS unit, which uses electrical pulses to reduce painful neuromuscular signals in patients with chronic back pain.
The concept here is much the same, except instead of placing the patch over the lower back, it's placed gently upon the magical no-man's-land between your testicles and backdoor, also known as the perineum, or more colloquially, the "taint" or "gooch."
From there, the patch generates small electrical pulses that reduce the rhythmic perineal muscle contractions that lead to orgasm.
Those contractions generate nerve signals to the brain that are integral to triggering the orgasm response. Men with PE appear to overproduce these nerve signals, which rapidly build to an orgasm significantly faster than usual. Applying this small electrical current results in interference with the conduction of the signals up to the brain, so they build in a more slow, controlled fashion.
Right now there are two medical device companies testing and seeking approval for wearable treatments for PE: Virility Medical and Morari Medical.
Virility Medical
Virility Medical is developing its own perineal TES patch called the vPATCH and recently reported the results of a small proof-of-concept study conducted in 2019.
Using a "commercial neuromuscular electrical stimulation device" with properties similar to the vPATCH prototype in development, they recruited 23 patients aged 20-60 with lifelong PE to participate.
Participants had two visits to the clinic. At the first, each received either TES or sham treatment applied to the perineum. On the second visit, they received the opposite treatment. During both visits, participants were left alone in a private, silent room to masturbate. A stopwatch was used to record their time to completion, which the researchers term "masturbation ejaculatory latency time", or MELT.
It's important to note that the study used masturbation time to measure the effects of the treatment, which is likely to be different from a measure of sexual intercourse time. That said, the results were still promising, with 85% of the study participants experiencing an average 3.5-fold increase in MELT.
We're not yet sure how the final form of this product will take shape. Virility gives the impression that their product will be a flexible patch-type electrode that will conform to the shape of the perineum. It also appears the patch will be controllable by an app via a Bluetooth connection to the user's smartphone. Bluetooth, of course, is a wireless technology; however, this doesn't mean the device will be completely wireless.
For example, in the POC study, the authors mentioned the device being tested connected to an external battery via small wires, and that some participants complained about the positioning of these wires. Given the one-time-use nature of each patch, we're guessing they'll attempt to include an onboard battery with just enough juice to last for the session.
Virility doesn't give an estimated date when their product will be available for purchase, or whether it will be prescription or over-the-counter. Since their product appears to still be in the prototype phase though, we're thinking it'll be at least two years before we see the vPATCH come to market.
Morari Medical Device
Sexual health and wellness company Morari Medical announced their yet-unnamed product at the 2020 Consumer Electronics Show (CES). There was much fanfare and the internet resounded with childish glee at the chance to use terms like "taint Band-Aid." Another interesting aside: The word morari is Latin for "linger" or "delay." We thought that was pretty clever.
In terms of mechanism of action, their product is similar to Virility's: They both work via transcutaneous electrical stimulation in the perineal area that slows the neuromuscular signals that trigger premature orgasm in men.
Since the CES announcement though, Morari appears to have invested a lot of resources in improving the effectiveness and usability of their patch. They found an adhesive for the patch that keeps it in place before and during use but can be removed without discomfort. The patch is also controllable via Bluetooth connection to the app on Android or iOS smartphones. It isn't clear how the device is powered.
Notably, Morari is preparing to release the results of their "DELAID" study, a clinical trial designed to test the effectiveness and safety of their patch in men within the context of a committed relationship. The study completed enrollment shortly after the 2020 CES trade show, and the results are expected in the first quarter of 2021. Once these results are available, we'll put out another article to break them down for you.
The company is moving aggressively to bring their product to market by the end of 2021.
How eDrugstore Can Help
These new developments in the treatment of premature ejaculation are promising, but still about a year off. In the meantime, to learn more about premature ejaculation and its causes and treatments, see our ultimate guide on PE here.
eDrugstore.com also has a number of options for managing erectile dysfunction and premature ejaculation, both prescription and non-prescription. Check out our extensive inventory today!
Randall is a medical writer with years of experience in the healthcare and pharmaceutical industries. After earning his Doctor of Pharmacy degree from the Albany College of Pharmacy and Health Sciences, he worked as an infusion and specialty pharmacist, where he discovered his passion for making trustworthy healthcare information accessible to everyone.