Walmart's price for Viagra 100 milligram is lower than nearly all its competitors, remaining steady at $82.69 per pill. Customers looking for the lowest price on generic sildenafil will be disappointed by Walmart's price. At $25.79 per 100 -milligram pill, it's currently the most expensive compared to other pharmacies. For savvy customers willing to pay a little extra for premium service, ordering erectile dysfunction medications like Viagra online from eDrugstore.com is still the best way to stay safe and save time getting your prescription filled, with the convenience of free shipping right to your doorstep.
Walmart is hands-down the biggest retailer in the United States, and it consistently ranks in the top three largest retail pharmacies alongside CVS and Walgreens. It's well-known for saving people on prescription drug costs. In the case of Viagra and sildenafil, Walmart might save you a couple of bucks or cost you a few more, depending on whether you order the brand-name or generic product.
As of July 2021, Walmart's price for brand Viagra 100 milligrams is $82.69 — consistently among the lowest. For customers who prefer generics, Walmart offers sildenafil 100 milligrams for $25.79 per pill, but better deals — often significantly better — can be found at other retail pharmacies. In this article, we'll break down the numbers so you can see how Walmart stacks up when it comes to the most popular erectile dysfunction medication on the market.
Walmart's Prices On Brand-Name Viagra
Since Sept 2019, Walmart has offered the brand-name Viagra at a better price than either CVS or Walgreens, its two main pharmacy competitors. Before that date, Walmart's price for Viagra 100 milligram tablets was $79.69 per pill, more expensive than CVS by $3.00 and Walgreens by more than $2.00.
In September 2019, prices for Viagra 100 milligram tablets at CVS and Walgreens edged upward to $77.48 per pill and $77.51 per pill, respectively. This represented a small increase of less than $1.00 for both CVS and Walgreens.
Interestingly, the increase brought the price for Viagra at these two chains to within pennies of each other at a point that was lower than Walmart's price at the time. This remains the status quo, but the roles have reversed, with CVS at $85.20, Walgreens at $85.23, and Walmart with the lowest price.
Three Can Play At This (Pricing) Game
Not to be outdone, Walmart simply moved some numbers around to drop its price from $79.69 to $75.19 per pill, nearly $2.50 lower than the price point for CVS and Walgreens. Fortunately (or perhaps, unfortunately), this mini-price war was just a brief flare of drama that quickly fizzled out in the second half of 2019. Through the end of 2019, Walmart retained its brand-name Viagra pricing edge on almost all challengers.
January 2020 brought with it a flurry of drug price increases by pharmaceutical companies. Pfizer, the maker of Viagra, hiked prices on most of its products before most of us had even finished our New Year's champagne.
Retail pharmacies adjusted their prices accordingly, and Walmart was no exception. At $82.69 per pill, it maintained and actually widened its lead over other pharmacies. In particular, its price was still almost $2.50 less than CVS or Walgreens, which now had the highest prices. Prices for Viagra have been remarkably stable since then, and Walmart is still among the lowest.
So buying erectile dysfunction drugs like Viagra at Walmart will save you about the cost of a cup of coffee (maybe two if you drink the cheap stuff). Buying from eDrugstore.com may cost more per pill, but the benefits built into that price will save you a lot more than that.
What Your Prescription Really Costs You
How long does it take to get a script filled at a brick-and-mortar retail pharmacy? An hour, if we're being generous? Plus another hour of driving between the pharmacy and your home? And if your doctor forgets to call the prescription in? Forget about it! All of it is wasted time that costs you money, even in the best-case scenario.
How much money?
Well, how much do you make per hour at your job? Multiply that by how much time you'll spend filling your prescription, and you'll get the amount you would save by ordering from eDrugstore.com instead.
That's because eDrugstore.com isn't just another online pharmacy; it's also a full-service health facilitator that can connect you to a licensed physician who can discuss your concerns about erectile dysfunction and write a prescription if you're a good candidate for therapy.
Once eDrugstore.com receives this prescription (or one sent from your own doctor), your medication will be discreetly shipped right to your door for no extra cost.
Get your erectile dysfunction prescriptions filled fast without the hassle of multiple trips to the pharmacy and without ever leaving the safety of home. Visit eDrugstore.com and take back your time today.
More Competition Means More Savings For Patients
Pfizer's patent on Viagra expired, depending on who you ask, in 2017, 2018, or possibly 2020, paving the way for generic drug manufacturers to make their own versions of the active ingredient, sildenafil. Here's a superb article if you'd like to read more on Viagra's patent drama.
Like its competitors Levitra (vardenafil) and Cialis (tadalafil), sildenafil works by blocking the enzyme phosphodiesterase-5 (PDE5), which results in increased blood flow to the penis and harder, longer-lasting erections.
That's good news for men struggling with the frustrating symptoms of erectile dysfunction. The not-so-great news is that as of October 2020, Walmart's price for sildenafil 100 milligram tablets ranged from $9.00-$10.00 more than at CVS or Walgreens and over $24.00 more than at supermarket pharmacy Publix. This puts it at roughly the same price as the rest of its competitors.
Walmart may not be the proverbial king-of-the-hill in this instance, but generic sildenafil still represents a substantial cost saving for patients over brand-name Viagra — often more than 50%.
Walmart Has Consistently Higher Prices on Sildenafil
As we were saying, prices for sildenafil at Walmart right now could be considered average to high among a panel of seventeen retail, supermarket, and online pharmacies surveyed by eDrugstore.com.
In September 2019, Walmart's price for sildenafil 100 milligram tablets was $25.79 per pill, a little more than twice the price at CVS or Walgreens. And despite the high price point, that was still lower than most other major retail pharmacies at the time. However, even as the market has shifted, Walmart has kept generic sildenafil at $25.79, $5 above the national average, and almost $10 more per pill than Walgreens or CVS.
While this isn't a bad price, for now, it means you'll definitely get a better deal on sildenafil if you explore your options at other retail pharmacies. But nowadays, leaving home to pick up a prescription from a brick-and-mortar pharmacy isn't so simple. What used to be just an inconvenient errand can now put your safety at risk.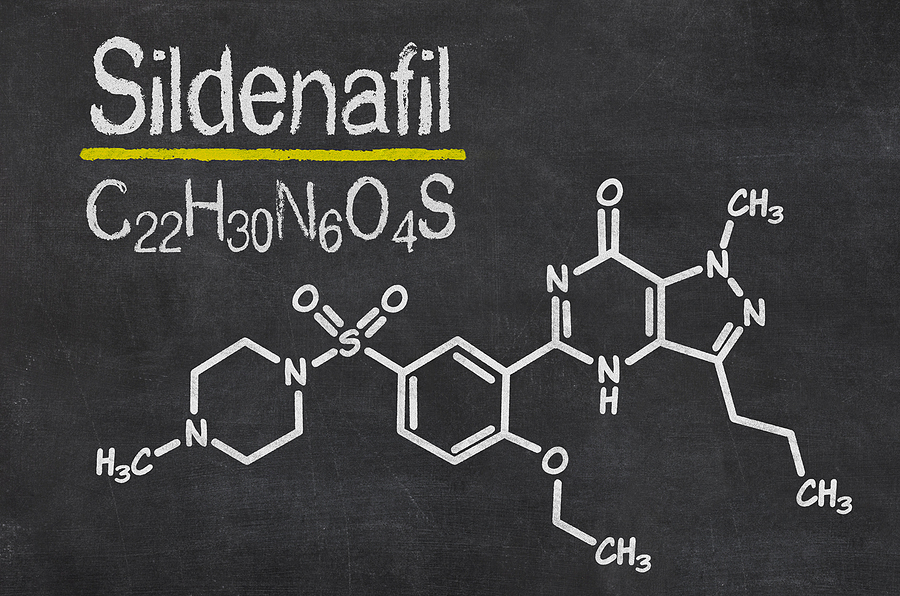 Stay Safe, Save Time With Free Shipping
Ordering erectile dysfunction drugs like Viagra and sildenafil from eDrugstore.com, on the other hand, means convenient, discreet delivery right to your doorstep — no trips, no contact, and no extra charge. Save time while keeping your peace of mind. Check out eDrugstore.com's selection of medications for erectile dysfunction and sexual health today.