Doctors Rethink Use of Testosterone to Address ED
The American College of Physicians has issued new guidelines for the treatment of age-related low testosterone. Hormone replacement therapy now is recommended only for patients who are experiencing sexual dysfunction.
Introduction
Hormone replacement therapy in men suffering from age-related low testosterone should be limited to those who are experiencing symptoms of sexual dysfunction, including erection problems. That's the major thrust of new guidelines developed by the American College of Physicians (ACP).
In a press release accompanying the new guidelines, ACP President Robert M. McLean, M.D., noted that clinical evidence confirms that testosterone supplementation can produce "slight improvements" in sexual and erectile function. However, McLean added, currently available evidence "does not support prescribing testosterone for men with concerns about energy, vitality, physical function, or cognition."
It's important to make a distinction between the natural decline in blood levels of testosterone that accompanies aging and deficiencies of the male hormone that can be traced to other causes. The ACP's new guidelines, also endorsed by the American Academy of Family Physicians, apply solely to cases involving age-related declines in testosterone.
And doctors who do prescribe testosterone replacement therapy for their patients with sexual dysfunction should also take care to lower patient expectations based on the limited evidence that such therapy will succeed.
Basis for New Guidelines
The new ACP guidelines, published in the Annals of Internal Medicine, were developed after a systematic review of relevant studies conducted by the ACP's Clinical Guidelines Committee. Included in this review were 38 randomized controlled trials of testosterone replacement therapy (TRT)  lasting at least six months and 20 long-term observational studies of TRT.
The impetus for the review, said McLean, was a need to separate fact from fiction among the conflicting claims about the benefits of TRT for men suffering from age-related low testosterone. "We decided to do an evidence-based review to come up with a set of coherent guidelines," he added.
The review was conducted to evaluate evidence of TRT's effects, if any, on sexual function, physical function, quality of life, cognition, depression, and energy/vitality. Also examined were any adverse effects of TRT, including adverse cardiovascular events.
The guidelines committee failed to find convincing evidence that TRT is effective in treating any disorder other than sexual dysfunction. Specifically, their data analyses revealed a 35 percent improvement in overall sexual function and a 27 percent improvement in erectile function from TRT. And, even here, the improvement reported was not of a major magnitude.
What the Guidelines Say
After its systematic evaluation of existing clinical evidence, the ACP guidelines committee developed the following four recommendations:
Recommendation 1a: Clinicians should broach the possibility of TRT in men with age-related low testosterone who are suffering from sexual dysfunction that they would like to treat. However, doctors are advised to fully discuss with patients TRT's potential benefits, harms, costs, and the patient's preferences.
Recommendation 1b: Clinicians should review TRT patient's symptoms within 12 months of initiation of treatment and periodically thereafter. If no apparent improvement in sexual function is achieved, discontinuation of TRT should be recommended.
Recommendation 1c: Clinicians should consider the use of transmuscular TRT rather than transdermal because the former therapy is lower in cost and comparable in both clinical effectiveness and possible side effects.
Recommendation 2: Clinicians should not begin TRT in patients with age-related low testosterone "to improve energy, vitality, physical function, or cognition."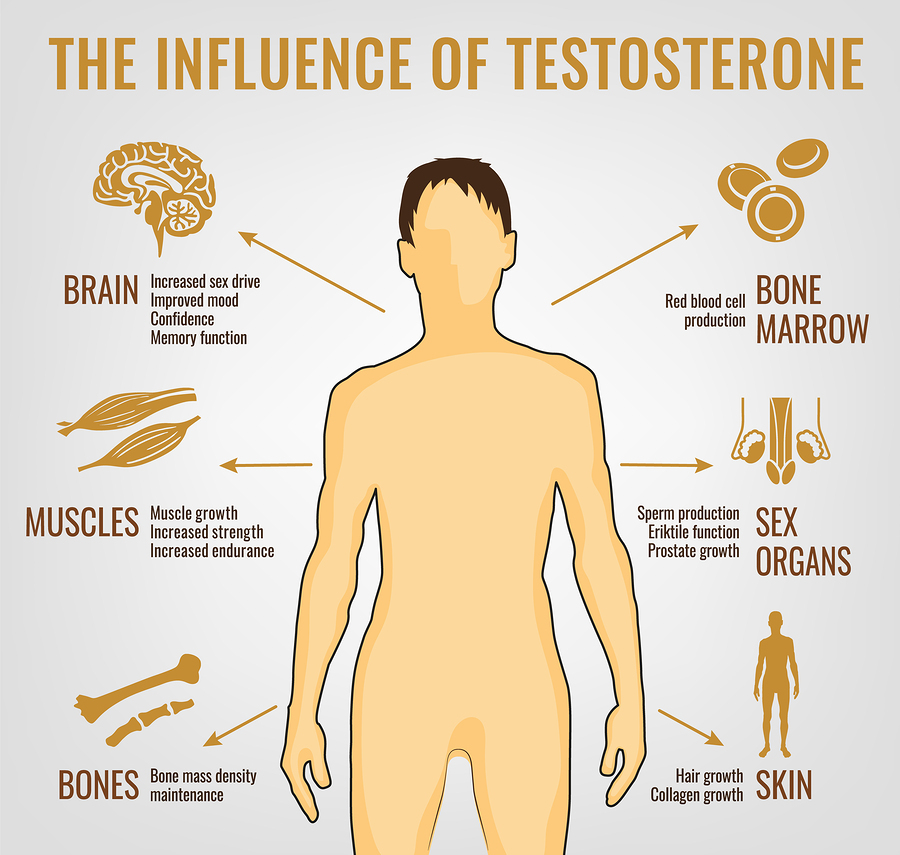 Aging and Testosterone Decline
A gradual decline in blood levels of testosterone usually begins in men who are 30 or slightly older, according to WebMD.com.  Levels of the primary male sex hormone are said to drop by about 1.6 percent per year. This is a natural process and not attributable to any disease or disorder.
Normal testosterone levels range from 300 to 1,000 nanograms of the hormone per deciliter of blood, according to Healthline.com. Readings below 300 ng/dL are considered evidence of low testosterone.
The American Urological Association estimates that only about 2.1 percent of all men suffer from low testosterone. While the incidence is very low among younger men, roughly 50 percent of men over the age of 80 may suffer from testosterone deficiency syndrome.
Other Causes of Low-T
Aging isn't the only cause of testosterone deficiency, which is also known as hypogonadism, a condition in which the gonads — the testes in men — fail to produce adequate levels of the hormone.
Hypogonadism also can be caused by congenital conditions or disorders such as Klinefelter syndrome, a genetic condition in which a male is born with an extra X chromosome. Males with Klinefelter syndrome may experience reduced muscle mass, less body and facial hair, and breast enlargement.
Other non-aging causes of testosterone deficiency include obesity, diabetes, pituitary gland dysfunction, traumatic injury to the testicles, infection, and autoimmune diseases.
Low-T and Erectile Dysfunction
According to ChoosingWisely.org, TRT has not been shown to be effective in treating ED in men whose testosterone levels are normal. And it's also unlikely to help men with Low-T whose only symptom is ED.
By far the biggest single cause of ED is insufficient blood flow to the penis, a bodily function in which testosterone is not directly involved. However, ED accompanied by a sudden loss of sexual desire might be more amenable to treatment with hormone replacement. Testosterone does play a key role in regulating sexual desire, and without that desire, getting an erection is unlikely.
Downsides of Therapy
No matter what form of testosterone replacement therapy is chosen, it's a costly procedure that could also pose some serious health risks, according to ChoosingWisely.org. Adverse effects of TRT can include fluid retention, acne, enlarged prostate, enlarged breasts, exacerbation of sleep apnea symptoms, decreased fertility, and an increase in red blood cells.
Viagra Is Best ED Treatment for Most
For the vast majority of men suffering from ED, the treatment of choice is Viagra or one of the other oral ED drugs known as PDE5 inhibitors. These medications temporarily optimize blood flow to the penis, offering otherwise impotent men a window of time to have normal erectile function.
Many men have found that they can save both time and money by ordering their ED medications from eDrugstore.com, a longtime online prescription drug service. Its prices cover not just the drugs themselves but a host of added-value services as well. These include free shipping and a complimentary online consultation service that can save you a trip to the doctor's office. To learn more, pay a visit to eDrugstore's Erectile Dysfunction page.