Erectile dysfunction is treated with a multi-pronged approach, usually a mix of lifestyle changes, medication, and emotional health approaches. Yet while exercising more, eating better, and consulting online with a doctor in the privacy of your home is easy enough, the mental health aspects of ED are trickier for many of us to navigate. Lover, a new sexual health app for iOS, caught my attention and I decided to try it out.
Lover: The Basics
Currently iOS only, version 11.0 and later
First launched December 2019
Content updated regularly
Developed by D2C Labs
In-App purchases with subscriptions available monthly at $9.99 and yearly at $59.99
Rated 4.8 out of 5 stars, as of August 9th, 2020
Who Is Lover For?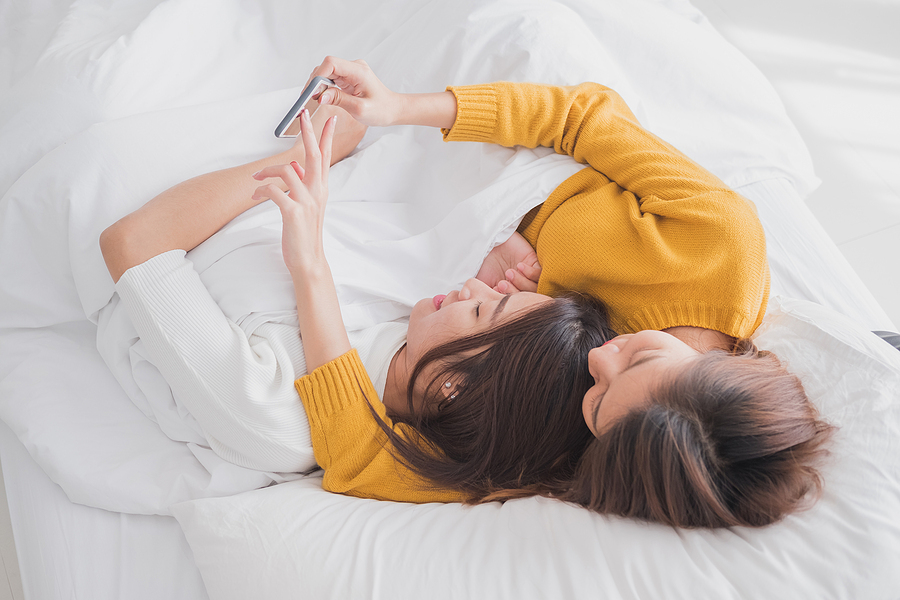 Lover is an app for both men and women. For obvious reasons, I'll be focused on the male side of things, but it may be useful to use the app with a partner, especially as part of sharing.
It can also be used by people not currently in a relationship. That's a particularly good touch for ED sufferers who are worried about getting back out there.
What Does Lover Claim To Do?
According to its website, a team of scientists, led by the company's co-founder and chief science officer Dr. Britney Blair, uses the latest science and techniques to "personalize a journey to sexual wellness, regardless of where you are starting or where you want to go," using tools, exercises, and information. Blair is board-certified in sexual medicine and is a practicing sex therapist in the San Francisco Bay Area, although we don't get a sense of the qualifications of the rest of the team.
If you go onto Lover's blog, you can sample a few of the different aspects of the app, and it turns out if offers a good general overview. There's a "Sexercise" routine developed by Dr. Blair and Bay Area personal trainer Brian Thompson, designed, it claims, to get you "bedroom-ready." It discusses the psychological aspects of ED, how couples can reignite sexual desire, and other topics in a general way.
The idea is that you'll use the app and its profiler tool, and then it will show you all the ideas and approaches you need to rekindle a fire, be it between the two of you or in your pants. In theory, at least.
The Lover Experience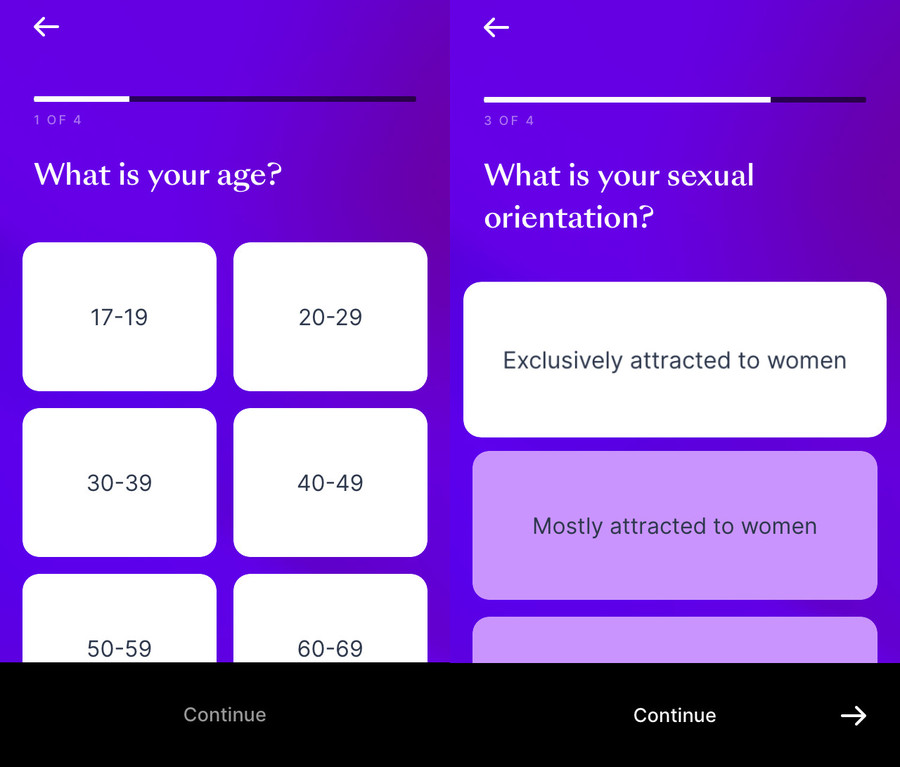 One big demerit right off the bat is the lack of an Android version, since I'm an Android user. Fortunately, I have an open, honest and thoughtful relationship with my wife, so asking her to borrow her phone and download an app about sexual health wasn't awkward. (Your mileage may vary.)
When you first start Lover, it asks you a number of questions: Your gender, sexual orientation, and current relationship status. A nice touch is that the orientation question is more of a scale than just a set of options, so people across the sexual spectrum can make use of it. You do have to log in with an email, so if you were hoping for total anonymity, create a burner email address.
Unfortunately, it rather quickly goes off the rails, with a mixture of personal questions, like how frequently you get erections, and pop-quiz type questions. This is right after you're told "there are no right or wrong answers," which sends a real mixed message.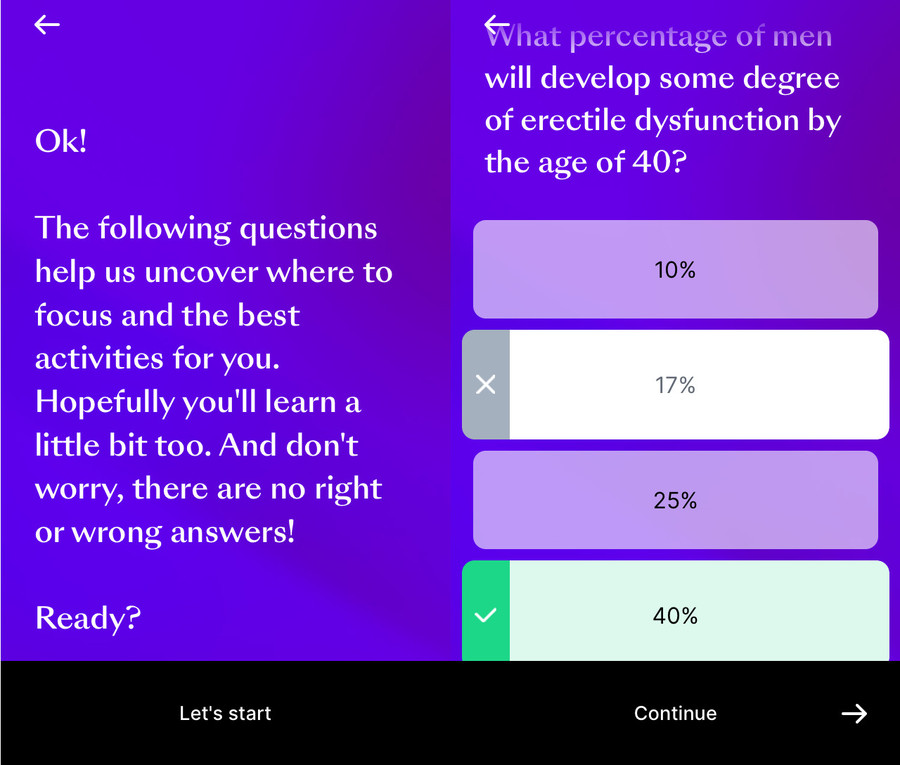 Flashbacks to high school math aren't my particular gateway to honest sexual exploration, but hey, you do you.
A bigger problem is the quiz questions aren't backed up the way the app claims. For example, a question about masturbation, stating that men over 25 should limit their masturbation to once every two to three days, cites "The New Male Sexuality by Billie Zilbergeld (1999)."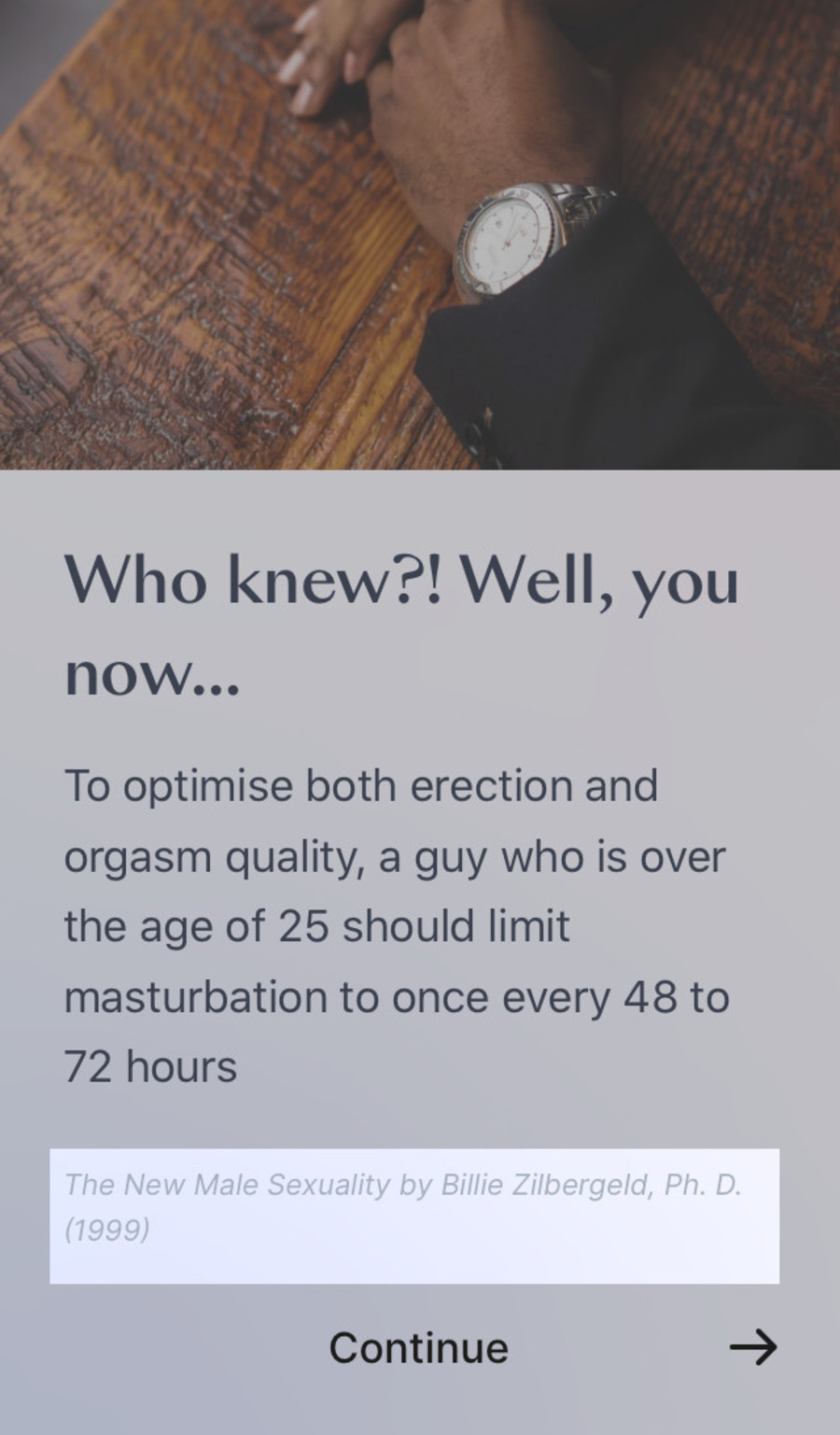 There are two problems with this.
The author is Bernie Zilbergeld.
Dr. Zilbergeld passed away in 2002.
OK, three if you're an academic, because they don't use a consistent citation style.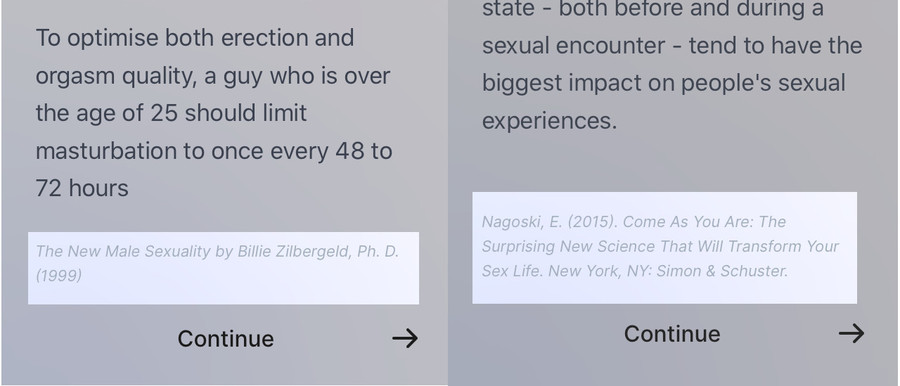 Furthermore, while The New Male Sexuality is a highly respected text that's still in print today, Dr. Zilbergeld is a clinical psychologist, not a urologist. Why am I talking to an electrician about my plumbing?
Another question stood out for being leading: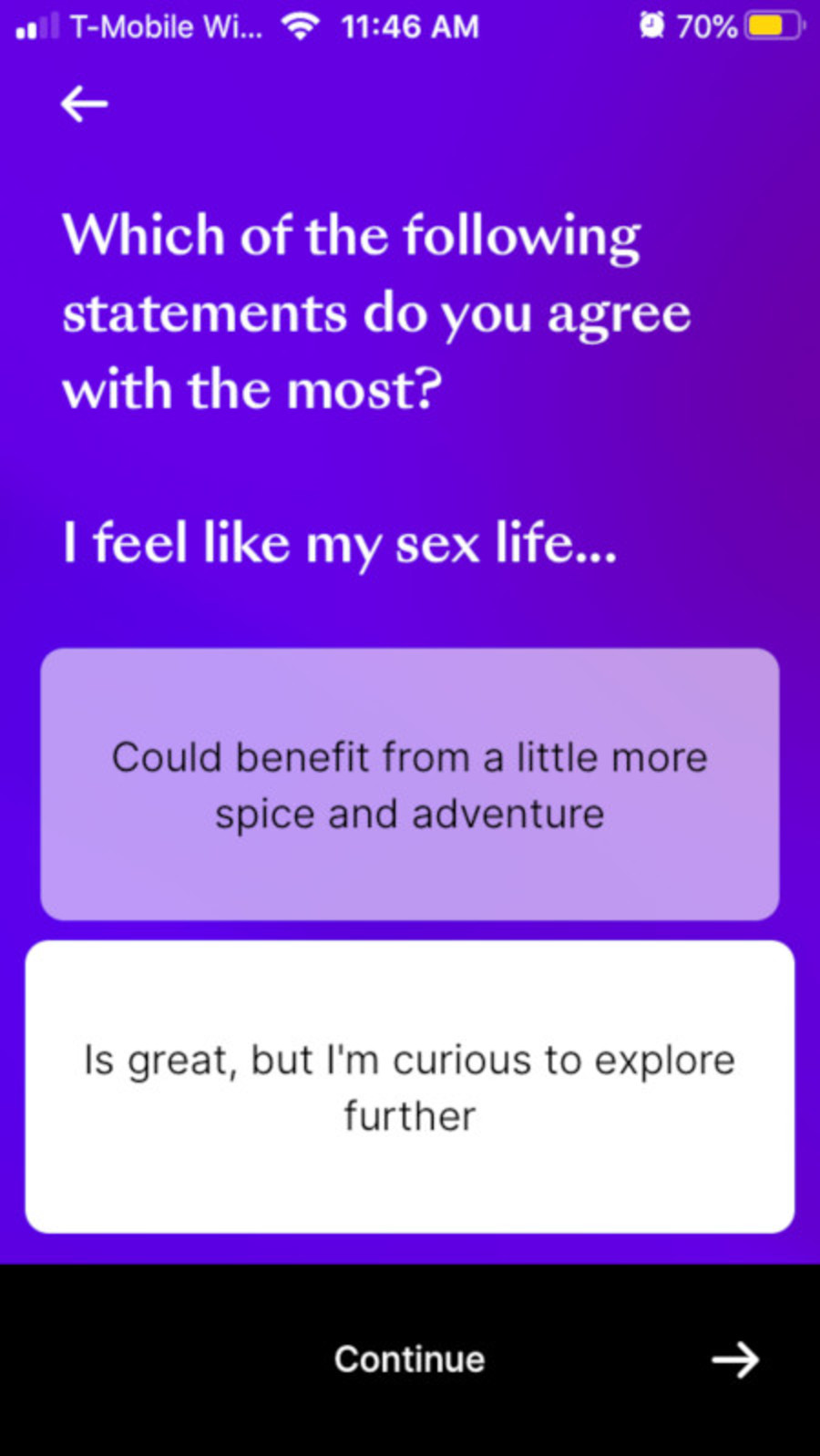 Isn't this just two different ways to say the same thing?
Once you get past that, it assigns you a personalized goal with a series of "courses:" I was assigned the "just curious" goal. The first few are free, and can be previewed on the website, but for the more in-depth stuff, you'll have to subscribe.
The early pieces are a bit underwhelming. While the Coreplay, Not Foreplay piece has some fairly solid things to say about the basics of female sexuality and orgasm, it's just that, the basics.
The aesthetics don't help, Lover has the arch "tasteful" tone of a magazine you buy in the grocery store waiting line. It has a taste for "cheeky" imagery, like the watch and hands resting on wood in that masturbation factoid we showed earlier, or overly New-Agey stuff about flowers. And, sure, there's only so frank you can be with an app, but by the same token, I occasionally feel like the app is about to giggle if I type in the word "penis."
Should I Download Lover?
Erectile dysfunction is as much about mindset as it is about your body, and in that sense, I can see how Lover can help, especially if you want to keep your sex life private, either at your or your partner's request. Having a private place to learn can definitely be useful.
That said, it's difficult to see this as more than just a piece of the mental health approach. There's only so far any set of questionnaires and courses can take you, on that side, before you're going to need to talk to someone. That's not really a gap a $9.99 a month subscription is going to be able to cross. So, if you need help getting started, and have an iPhone, Lover may be a good beginning. But it's only going to get you so far to a satisfying finish.
You may also enjoy How the Lover Erectile Dysfuncion App Works (From a Woman's Perspective).
To learn more about lifestyle medications to treat your erectile dysfunction, and how they can be prescribed in the comfort of your own home, visit eDrugstore.com.
Dan is a long-time freelance writer focusing on technology, science, health, and medicine, with a lifelong interest in physics, biology, and medicine. His work has taken a particular focus on scientific studies "beyond the headlines," reading the study to more closely examine the results.