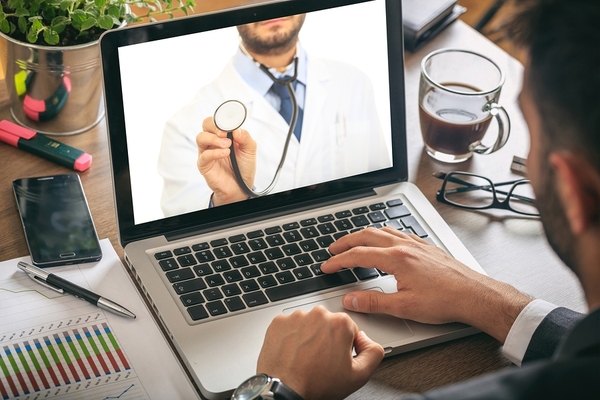 Telemedicine is poised to deliver greater access and convenience in 2017. Experts are predicting diverse, unprecedented growth in virtual healthcare services in the coming year, which will improve access to nurse practitioners, physician assistants and health professionals.
This means more Americans are expected to take control of their healthcare options by leveraging smartphones, apps, and related digital health technology to "see" their doctor and obtain treatment faster and easier.
According to Jonathan Linkous, CEO of the American Telemedicine Association, people will see a lot of change coming in telemedicine in 2017, which boils down not only to a lot of growth, but a lot more diversification.
Consumers can expect:
More integration by major health systems, which will be adopting telemedicine as a "need" rather than a "want." In the past virtual office visits were seen as a goal, but today they are an important component of their immediate strategies for 2017.
The year will bring significant growth as telemedicine is used in new and diverse ways. Providers are moving away from fee per service to managed care approaches, which Linkous says opens up huge opportunities for telemedicine.
The Age of Consumerism
Today's consumers – and patients – expect more. Many people prefer to shop online for speed, ease and convince, so naturally those consumers also want health care solutions to be just as easy and obtainable.
This demand is expected to breed greater competition which will improve the level of services. So, in order to meet consumer demand, there will be more patient-friendly options and new ways of accessing care.
Technology is also driving new entrants into today's healthcare market. We have already seen several examples of this, like the opening of more walk-in urgent care centers and direct online consultation sites.
But it doesn't stop there. Major companies like Walmart, have plans be the largest primary care provider in the country. This means opening healthcare sites at their facilities well as using telemedicine to treat patients through virtual appointments.
According to Linkous, this move gives consumers more of a choice, and is prime area for more competition to emerge in 2017.
Access Increases for Patients
There is a nationwide shortage of primary care providers. Seeing a doctor in person has become a greater challenge for many people and even more difficult if the patient lives in a remote area with limited services.
So, more and more companies are realizing the benefit of their employees having access to healthcare professionals other than doctors and using virtual technology for basic healthcare needs.
Let's face it, if you have an ear infection or are monitoring a health condition like diabetes or high blood pressure, a nurse practitioner can provide a similar level of care and service. A virtual appointment to discuss symptoms, diet and medications also provides what the patient needs.
This is changing healthcare access in a couple of ways:
Employers are making the move to offering workers greater access to nurse practitioners and other health professionals via workplace clinics or sites in retail locations. In fact, according to a survey by Mercer, 82% of large employers now include retail clinics in their health plan networks.
More employers are seeing the benefit of telemedicine. The access issues faced by Americans have created an opening for telemedicine companies like MDLive, American Well, and Teladoc. And that is expected to increase as more private insurers and employers provide coverage for telemedicine. In fact Mercer's research shows 59% of large employers offer telemedicine as a low-cost alternative to an office visit with a doctor.
One challenge consumers will face however, is determining if it an appropriate choice for their condition to have a virtual office visit versus seeing a doctor face-to-face. But the coming year puts patients in a position where they can take control of their own healthcare choices.
Laws Change to Support Telemedicine and Treatment Options
Many states have eased their scope-of-practice laws to allow easier access to nurse practitioners and physician assistants. Legislation supporting telemedicine is becoming more common, like the one signed by Arizona Gov. Doug Ducey requiring health plans to pay for telemedicine state-wide beginning in 2018. This overrides the state's current "parity" law said plans only had to pay for telemedicine in rural and medically underserved areas.
In fact, more than twenty-eight states and Washington, D.C., have telemedicine payment parity laws, according to Politico.
Another move in the right direction occurred last year, when a group of senators introduced the CONNECT for Health Act, which would remove many of the restrictions to telehealth and remote monitoring under Medicare.
Barriers Still Remain
There are still a few barriers to telemedicine that must be addressed. Policy related to licensure and reimbursement continue to challenge providers. Organizations lack readiness and clinical engagement continues to struggle as many lack a viable approach to get physicians to embrace new methods of delivering patient care.
Better Care, Lower Costs
But, by opening up access to medical care via a virtual appointment with a doctor, telemedicine breaks the boundaries set by having to have a face-to-face appointment to receive basic diagnosis, monitoring, treatment, and prescriptions.
According to a Willis Towers Watson internal analysis, telemedicine has the potential to exponentially lower health care costs, by as much as $6 billion annually, for U.S. employers. With 67% of employers offering telemedicine today and 90% expected to by 2018, telemedicine is an important, cost-effective choice in health care options for the future.
In fact, according to recent surveys, many hospitals (and insurance companies) are supporting the move to telemedicine because it has proven to reduce hospital stays and cut associated costs. It was found that the average cost of an online consultation with a doctor is about $50, versus an average of $80 for an in-office visit.
Can Telemedicine Work for You?
When you need the advice of a doctor, telemedicine means you are able to choose whether you must go to the doctor's office or hospital or simply pick up your smartphone or log onto your computer for a consultation.
Telemedicine is popular among patients looking for an affordable and convenient way to address common health concerns, without being required to have a face-to-face doctor's appointment for a physical examination.
It is believed that as many as 15% of patient in-person visits with their doctor could be replaced by telemedicine visits. Essentially, the medical issues behind those visits fits the criteria for proper diagnosis and treatment via a telemedicine appointment.
The medical issues include, for example, the common cold, urinary tract infections, skin rashes, bronchitis, allergic reactions, male impotence
and many others, all of which can be easily addressed though an electronic appointment – saving time and money for more patients in 2017.

Don Amerman has spent more than three decades in the business of writing and editing. During the last 15 years, his focus has been on freelance writing. For almost all of his writing, He has done all of his own research, both online and off, including telephone and face-to-face interviews where possible. Don Amerman on Google+