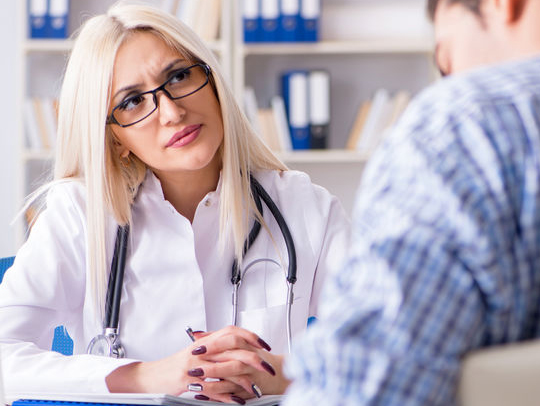 Expert Roundtable: Is Viagra Safe? (FAQ)
Highlights
Viagra is generally considered safe and effective for most men with ED.

Most side effects from Viagra are mild and temporary.

Some medications, like nitrates, can't be taken with Viagra.
Viagra (sildenafil) is the most popular oral ED medication on the market. We spoke with a panel of sexual health experts to answer your most pressing questions about Viagra.
Is it Safe to Take Prescription Oral Erectile Medication Including Viagra, Cialis, Staxyn and Stendra?
Experts agree that prescription lifestyle medications are safe for most men to take under the direction of a doctor. The Food and Drug Administration (FDA) has approved several oral medications to treat erectile dysfunction (ED).
These include:
Parmeet Kaur, a physiotherapist who specializes in pelvic floor physiotherapy, says:
"[These drugs] are safe when taken as directed by a healthcare provider. However, it's important to note that these medications are not suitable for everyone, especially if you have certain health conditions or are taking certain medications."
This is why it's so important to buy drugs like Viagra from pharmacies that require a prescription.
Lauren Haines, nurse practitioner and founder of Integrative Sexual Wellness, cautions:
"Some people may need to start on a lower dose or adjust the
way they take ED medication if they have certain medical conditions or take
certain medications."
Not only are they safe for most men, but they are also a first line defense against ED.
Holistic physician Dr. Sony Sherpa agrees:
"Prescription PDE5 inhibitors, such as Viagra, Cialis, Staxyn, and Stendra, are widely used treatments for erectile dysfunction. They can be highly effective in helping men to achieve and maintain an erection for sexual intercourse."
Fortunately, you can access a prescription for free and order any of these FDA-approved medications online at eDrugstore.com.
What Is the Difference Between Viagra and Cialis?
With so many effective options available, it can be challenging to keep the details straight. Viagra and Cialis are the two leading prescription lifestyle medications on the market. There are a few key features that set these medications apart.
How Long They Last
Judson Brandeis, MD, a board-certified urologist, commented:
"The main difference between Viagra and Cialis is how long the medication is effective. Viagra is effective for about 8 hours and Cialis will be effective for up to 36 hours."
Erika Gray, PharmD, pharmacist and co-founder of MyToolBox Genomics, added:
"This is why Cialis is sometimes called the weekend pill because it allows for more spontaneous sexual activity without having to time the dose as precisely. Additionally, Cialis can also be taken in smaller daily doses for those who want to have sexual activity more frequently."
How long Cialis may last for you — for a longer or shorter period of time — depends on how your body processes the drug.
When You Take It
You should carefully time your medication based on when you are planning to have sex. Depending on the medication, you may also need to time your dose around your meals.
Viagra starts working within an hour. Experts agree that men should take Viagra one to two hours before sex. They should also consider timing their meals when taking Viagra.
Haines cautions:
"Fatty foods can also decrease the absorption of the medication so it is important to take it at least 1 hour apart from a meal or any fatty foods."
Dr. Sherpa agrees, adding, "Taking it on an empty stomach ensures optimal results."
Cialis can take anywhere from 30 minutes to two hours to take effect. This depends on whether you take regular Cialis or Cialis for daily use.
Dr. Sherpa notes that, unlike Viagra, "The effects of Cialis are not diminished by food."
What are the Risks Associated with These Types of Oral Medications?
Clinicians agree that oral ED medications are generally considered safe and have minimal side effects. However, as with any prescription medication, the risk of side effects varies from person to person.
Potential side effects include:
Changes to hearing

Changes to vision

Diarrhea

Dizziness

Flushing

Headaches

Nasal congestion

Nausea or upset stomach

Rash
Kaur explains that priapism, a painful erection that lasts for more than four hours, is a rare but serious side effect. Priapism can cause permanent damage to the penis.
Severe side effects warrant immediate medical attention. This includes priapism or sudden changes to your hearing or vision.
Haines explains, "These side effects are very rare but can possibly occur, especially at very high doses or if these medications are used inappropriately."
You shouldn't take other medications with your ED drugs without discussing potential interactions with your doctor. This is especially true for men taking medication for any type of cardiovascular problem, like nitrates.
Dr. Brandeis warns:
"Men who are taking nitrates or potentially who will take sublingual nitroglycerin for chest pain should not take PDE 5 inhibitors. Relative contraindications include a recent history of heart attack or stroke, low blood pressure, or men who take alpha-blocker medication for high blood pressure."
You should always take your medication as prescribed to prevent side effects.
At What Age Is It Unsafe to Take These Medications?
Oral ED medications are generally considered safe for adult men, unless they have a health condition that places them at risk for serious side effects. Your risk for ED increases with age, but aging doesn't mean an end to your sex life.
Haines comments, "These medications are safe to take for erectile dysfunction in all adults ages 18 and up. People safely use this medication well into their 80s and 90s if desired."
The rest of our panel of experts agreed but also recommended reviewing current medications and health conditions with their provider prior to starting an oral ED medication.
Kaur shared:
"There is no specific age at which it becomes unsafe to take these medications. However, they may not be appropriate for men with certain health conditions or who are taking certain medications. It's important to talk to your healthcare provider about whether these medications are safe for you."
Dr. Gray expanded on this and cautioned:
"It is important to note that certain medical conditions, such as heart disease, low blood pressure, liver or kidney disease, and certain eye conditions, may make it unsafe to take these medications. Men over the age of 65 or with underlying medical conditions may be more likely to experience side effects from these medications."
What are Some Reasons These Medications Will Not Work for Some Men?
Research shows that oral ED medications are effective at treating ED in most men who take them. However, these medications don't work for everyone. If your medication isn't working, you should talk to your provider about your dose, lifestyle, or underlying health conditions.
Health Factors
Men with certain medical conditions may not respond well to oral ED medications.
Dr. Brandeis notes:
"These medications will not work in men who have severe vascular disease that clogs the blood vessels going to the penis, men with neurogenic erectile dysfunction like men who have undergone prostate surgery or have severe diabetes, multiple sclerosis, stroke etc."
Psychological Factors
Men with ED rooted in psychological causes, such as severe anxiety or depression, may not find success with oral ED drugs alone.
Sarah Melancon, Ph.D., a Sociologist and Clinical Sexologist, shares:
"I have observed the best treatment outcomes when PDE5 inhibitors are combined with therapy (for psychogenic ED) or lifestyle changes (for organic ED), gradually reducing medication use over time."
Haines agreed, adding:
"Other people have a lot of anxiety around taking the medications which can also reduce the effectiveness of the medication. I always recommend trying the medication on your own during masturbation prior to trying it with a partner — just so you know how it makes you feel first."
Other Factors
ED medication is effective for most people when taken at the right dose and at the right time. However, some people may not realize they're taking too little or too much of their medication. And some people may need to try a different ED medication, or a combined treatment approach, before they see results.
Kaur commented:
"Taking the medication incorrectly or at the wrong time," and "interactions with other medications" may be to blame when ED medications aren't working for some men."
Some experts emphasize the importance of improving connection and focusing on intimacy for improved effects. A treatment approach involving a patient's partner is also supported by research.
Dr. Melancon confirms, adding, "Involving a partner in treatment tends to result in greater sexual and relationship satisfaction."
Ordering Medication is Fast and Easy with eDrugstore
Prescription lifestyle medications are the first line of treatment for most men with ED. The best way to find the right medication for your needs is to speak to your medical provider.
Take advantage of a free consultation with a U.S.-licensed physician at eDrugstore. We have the erectile dysfunction medication you need, whether it's a "weekend pill" or medication for daily use. Simply schedule your consultation, choose your medication, and wait for it to be delivered to your door. With eDrugstore, virtual health visits and shipping are always free.