Are you seeking to age into maturity graced with a healthy and satisfying sex life? Have you found yourself drawn to the internet, seeking information about erectile dysfunction (ED), medications, and lifestyle changes as you age? If so, then you are not alone!
The Johns Hopkins Bloomberg School of Public Health reports that more than 18 million men in the U.S. over the age of 20 are affected by erectile dysfunction. This indicates that almost 20 percent of men in the United States suffer, have suffered, or will suffer from ED.
So where do these men live? Are there geographical patterns in the location of men suffering from ED? The data tells an interesting story and reveals some important information about access to erectile dysfunction drugs, the health of men nationwide, and the relative demographics of different U.S states.
Tools for analysis
Google trends, the arm of the online tool that tracks how frequently a search term is entered, reveals that in some states, searches for "erectile dysfunction" are the most commonly searched words of all searches on the internet.
As this chart from Google trends demonstrates, "erectile dysfunction" as a Google search term has remained very high over time, with searches for ED occurring, overall in the top 25 percent of all searches made on the site.
Further work with Google trends reveals that some states in particular have more searches for ED than others. As this chart shows, "erectile dysfunction" was in the very highest percentage of all search terms in the last year in Montana, with almost equally high numbers in other northern states such as North and South Dakota.
While Google Trends helps us see who is searching for information on erectile dysfunction, industry discount service GoodRx has compiled the data as to where the most drugs for ED are being prescribed. According to that data, Hawaii, Massachusetts, Connecticut, Vermont, New York, and Minnesota are the top states with the most prescriptions for ED medications.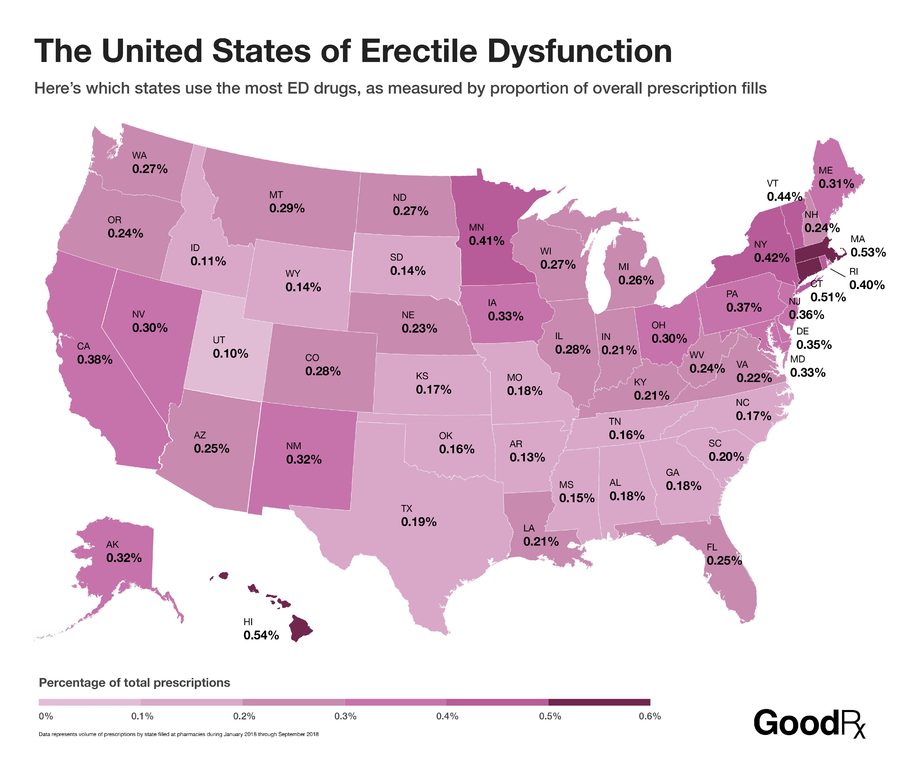 Analyzing the data
Armed with this information, we can begin to speculate and draw conclusions about which states have the highest incidence of erectile dysfunction, and why that might be true in that area. Considering this, several points come into play:
The median age of men in the state
The median age of men in Montana is 38. The median age of men in Hawaii is 37. If we compare these numbers to a state with low numbers of both searches and prescriptions for ED, such as Utah (where the median age of men is 28), we can infer that the older population of men means a higher incidence of ED, since erectile dysfunction is strongly linked to age. 
Prevalence of Cardiovascular disease
ED is strongly linked to men's age, but also their heart health. As the states with a higher median age show more interest in and prescriptions for erectile dysfunction medications, so do states with higher levels of cardiovascular disease show more evidence of men suffering from ED. Using the examples of Utah and Montana again, according to the CDC, heart disease mortality is much higher in Montana than it is in Utah.
Age and cardiovascular health are two pieces of the puzzle, but smoking rates also likely affect the prevalence of ED by state. Smoking has been linked as an independent risk factor for the development of erectile dysfunction. This information tracks with the available data. According to the CDC, 20 percent of adults use cigarettes in North and South Dakota, and more than 15 percent in Montana, all states with high levels of interest and prescription usage for ED. Utah and Idaho, however, with their lower levels of searches for ED and lower levels of prescriptions also have much lower percentages of smokers, at 10 percent and 12 percent, respectively.
Diabetes is another condition expressly connected to erectile dysfunction. As with hypertension and cardiovascular disease, the incidence of diabetes may be linked to the number of men with ED. In support of this analysis, granular evidence provided by the CDC that analyzes regions (not individual states) allows us to see how the moderate numbers of both ED internet searches and erectile dysfunction prescriptions map precisely onto the areas of the United States with the highest levels of diabetes: the south and southeast. States such as Alabama, Mississippi, and Florida do not have the highest levels of interest and medication but are counted among those states with strong numbers in both.
Fighting erectile dysfunction
We now know that age, cardiovascular disease, smoking, and diabetes are among the key indicators for men suffering from ED. Men who want to continue with health and satisfying sex cannot stop aging. We all get older. There are, however, other steps that men can take.
Erectile dysfunction is a product of poor blood flow to the penis. Therefore, lifestyle changes that increase good cardiovascular health and blood flow to the entire body can help significantly with erectile dysfunction. These changes include regular exercise and physical movement as approved by a physician, smoking cessation, and eating a healthy diet. All of these interventions can help with blood flow, heart health, and the regulation of sugar levels. All these, then, can help men's vascular and sexual performance.
There are currently a number of medications that have been proven to help with the symptoms of erectile dysfunction. The most common of these medicines include:
– Sildenafil (Viagra)
– Tadalafil (Adcirca, Cialis)
– Vardenafil (Levitra, Staxyn)
– Avanafil (Stendra)
All four medications improve the effects of nitric oxide, a chemical that relaxes muscles in the penis, increases blood flow, and allows men to get an erection. While these medications do not automatically produce an erection, they amplify the signals produced by sexual stimulation.
If you are one of the millions of men who suffer from erectile dysfunction , we urge you to consult with your doctor about healthy lifestyle choices that can help you get and maintain an erection. If you are ready to have a confidential discussion with a doctor via the internet, please visit eDrugstore.com for a private consultation and easy ordering process.
Elizabeth Nichols is an experienced and flexible author with extensive experience in both popular media and academic publishing. She specializes in health, medical and travel writing.