Premature Ejaculation Kit
Last Longer and Intensify Your Sexual Experience
Premature Ejaculation affects 1 in 3 men ages 18 to 70+ years old. We designed the PE kit to help men with PE last longer and perform better with their partners.
Included in the Premature Ejaculation Kit
20 Pills - Tadalafil (Generic Cialis)
3 Playboy Long Play Condoms with 5% Benzocaine
3 Promescent Mens Desensitizing Wipes
3 Promescent Before and After Sex Wipes
1 Promescent Aloe Sex Lube Gel
3 Stay Hard Silicone Reusable Penis Rings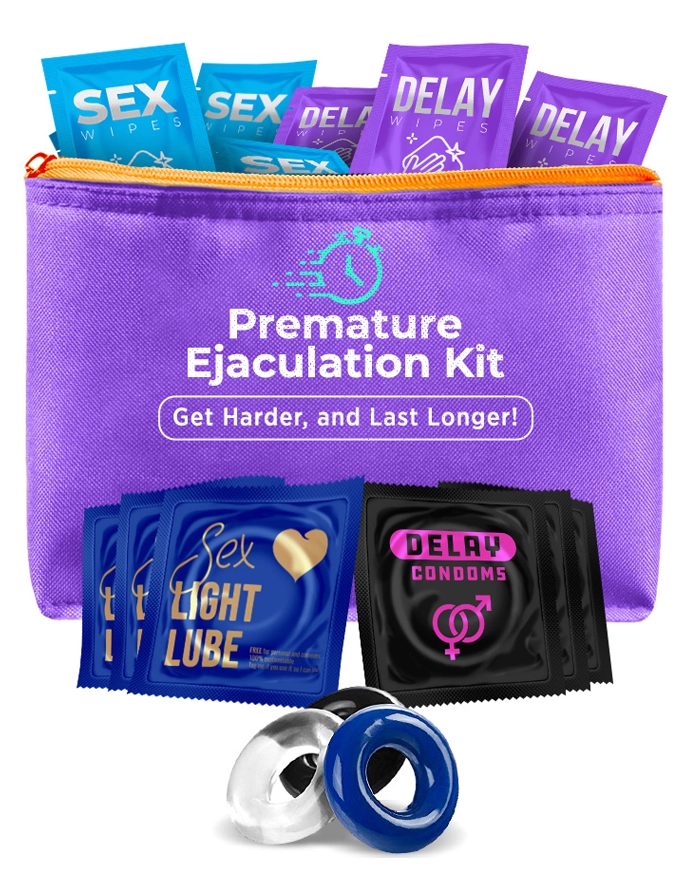 Premature Ejaculation Kit
The PE kit will improve endurance and the function of the male sexual organs. With this PE kit, you will achieve delayed, more reliable, pleasurable ejaculations. It also allows you to have more sexual control and enjoy the moment.
Tadalafil (Generic Cialis) - 20 Pills
Tadalafil is an effective treatment for PE. Regardless of the cause, duration, or age of the problem, low doses of 2.5mg have helped men prolong sex.
This PDE5 inhibitor drug, also known as a phosphodiesterase inhibitor, works quickly - within 30 minutes in some patients - and can last up to 36 hours. Patients can take Tadalafil up to once per day, and we recommend consulting with a doctor to determine the appropriate dosage for you.
Promescent Desensitizing Wipes - 3 Individual Benzocaine Wipe Packs
Desensitizing wipes with 5% Benzocaine are a numbing gel that can help to reduce stimulation in your penis during sex, allowing you to last longer.
The delay wipe will numb the nerves of the penis, making it less sensitive hence delaying climax and preventing Premature Ejaculation. The wipe should be applied just before sex and used with an ultra-thin condom to eliminate the transfer to your partner.
Playboy Long Play Delay Condoms - 3 Benzocaine Ultra-thin
Playboys Long Play Delay Condoms with Benzocaine gel inside help you last longer and avoid Premature Ejaculation by reducing the amount of stimulation felt during sex.
Promescent Before and After Sex Wipes - 3 Individual Wipe Packs
Use the wipes to freshen up before and clean up after each romantic encounter. The wipes are pH balanced, alcohol-free, and contain aloe vera. The wipes are 100% biodegradable - can even be flushed down the toilet
Promescent Aloe Sex Lube - 1 Individual Pack
Organic Aloe, Hemp, Green Tea, Oat Extracts, and More! Lube is a sex toy & condom-compatible pH-balanced formula. Aloe lube is made here in the USA in our FDA-certified facility. It rejuvenates your skin and lubricates intimate areas.
Cock Rings - 3 Washable and Reuseable
A cock ring is a toy that resembles a circle made of metal, leather, nitrile, silicone, rubber, plastic, rope, or velcro. For best results, place one ring at the base of the penis to restrict blood flow, allowing you to achieve harder, firmer, and longer-lasting erections.
What is Premature Ejaculation
Premature Ejaculation is one of the mens most common sexual disorders. One of every four men worldwide has an issue with climaxing too early.
That is a fact, but you also need to know that you have an 80% chance of getting rid of it. You must fully understand Premature Ejaculation (PE), its symptoms, and its causes, and follow the recommended treatment.
Premature ejaculation occurs when a man ejaculates earlier than his partner would like during sexual intercourse. There is no exact time limit for what constitutes "premature" ejaculation, but studies have shown that the average man ejaculates between two and six minutes of sexual activity.
If you last less than two minutes, you have PE. In simple terms, PE occurs when you are not lasting long enough to satisfy your partner.
Symptoms of Premature Ejaculation
Ejaculation frequently happens despite there little sexual excitement and only a small amount of control.
This is one of the primary signs of premature ejaculation. a decrease in sexual enjoyment as a result of poor control over ejaculating, emotions of shame, embarrassment, frustration, or a combination of these factors.
Causes of Premature Ejaculation
The specific cause of PE is still unknown to medical professionals. However, many who work in the medical field feel that it is the result of a more nuanced and intricate interaction between psychological and biological variables.
Psychological Causes
Your previous sexual experiences could be a factor in the development of PE, such as situations in which the partner may have hurried to attain the climax to escape discovery due to an inappropriate sexual session.
During sexual activity, some men experience pangs of guilt. Because of the problem, the partners could have a greater propensity to rush through their sexual sessions.
Concern or worry over ones sexual performance.
If you have had PE before, you tend to think about it every time you go to bed, which might lead to a recurrence of the condition. Performance anxiety is one of the leading causes of PE.
Relationship concerns: If you previously had a fulfilling sexual relationship in which early ejaculation occurred infrequently, a guy may be experiencing relationship challenges with his present partner, contributing to frequent PE. Both depression and stress are present.
Biological causes
Several biological factors may cause Premature Ejaculation, such as:
Unusual hormone levels
Irregular levels of brain chemicals called neurotransmitters
Abnormal reflex activities of the ejaculatory system
Inherited traits
Health Disorders
Premature ejaculation may be caused by one or more of the following health conditions: hypertension, inflammation, infections in the urethra or prostate, thyroid problems, damage to the nervous system caused by surgery or trauma, diabetes mellitus, heart disorders, kidney disorders, and circulatory issues.
Any of these health disorders might lead to early discharge of semen during sexual intercourse.
Erectile Dysfunction and Premature Ejaculation
Erectile dysfunction and premature ejaculation are two of the most common sexual difficulties that plague men. Premature ejaculation also occurs frequently. Both of these disorders affect a significant number of men at some point in their lives, and they can wreak havoc on a mans sexual life and sense of self-worth.
Both conditions have extremely distinct symptoms and ranges of severity, even though they are occasionally confused with one another. Learning the difference between the two will help you determine which factor influences your sexual life more.
In contrast to premature ejaculation, men who have erectile dysfunction are unable to achieve and maintain an erection. ED is a condition that affects men in which the penis cannot become engorged with blood and remain erect. Both of these symptoms can be devastating to a mans sexual life as well as his sense of self-confidence.
Even though premature ejaculation is a serious sexual problem, there is constant progress in science and technology. Many therapies are available, including oral medications, topical creams and vitamins, surgical procedures, and several other medical interventions.
Recommended Solutions
The following are proven solutions that help you control premature ejaculation, boost your sexual confidence in the bedroom, and make PE an issue of the past.