Did you know that many readily accessible foods can help provide a boost to your erection, and function like "natural Viagra?" It's true! While medications have been proven to be safe and effective in treating men's erectile dysfunction (ED), they are not the only option. Foods such as nuts, seeds, pomegranate, avocados, and bananas can also help men achieve and maintain a firmer and more pleasurable erection.  Read on to find out more about how some specific foods can help men improve their sexual health and pleasure.
ED and Lifestyle Changes
If you suffer from ED, your physician may have recommended medication. Having a healthy overall lifestyle, however, can not only decrease the need for medications that treat ED but can in and of itself improve erection quality. In short, there's every reason for the man experiencing erection problems to adopt lifestyle habits such as smoking cessation, regular exercise, and adjustments to diet.
Heart and vascular health are key to a man's ability to get and keep an erection. Without the good blood flow provided by a healthy cardiovascular system, an erection simply can't happen. For this reason, many of the "natural Viagra" foods on this list are the same as those recommended for heart health.
Therefore, we recommend adding or increasing your intake of some of the below-listed foods as part of a heart-healthy diet. Not a chef? Don't worry. The foods need little to no preparation and are easily accessible in most grocery stores.
1. Almonds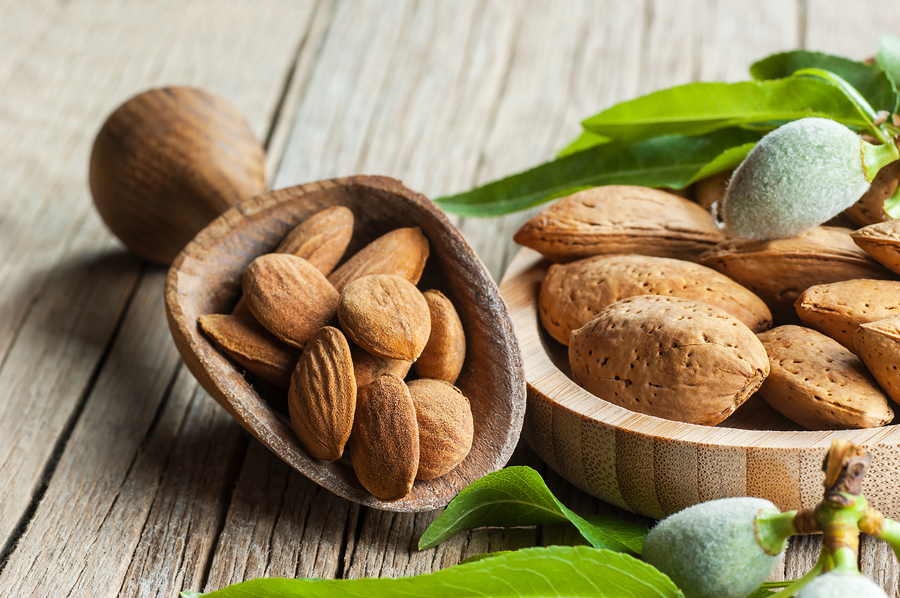 Almonds have been shown to lower LDL cholesterol, the "bad" cholesterol that in your blood that raises your risk of cardiovascular disease. Indeed, studies have shown that men who added almonds to their diets every day both lost weight and had lower LDL cholesterol overall. This is good news for those suffering from ED. Less LDL cholesterol in your blood means less plaque build-up in your blood vessels, and more of a chance for blood to flow smoothly and easily to your penis, allowing for a better erection.
The Cleveland Clinic recommends a small handful of nuts, about an ounce (which correlates to two dozen almonds) as a good serving size for heart health.
2. Pistachios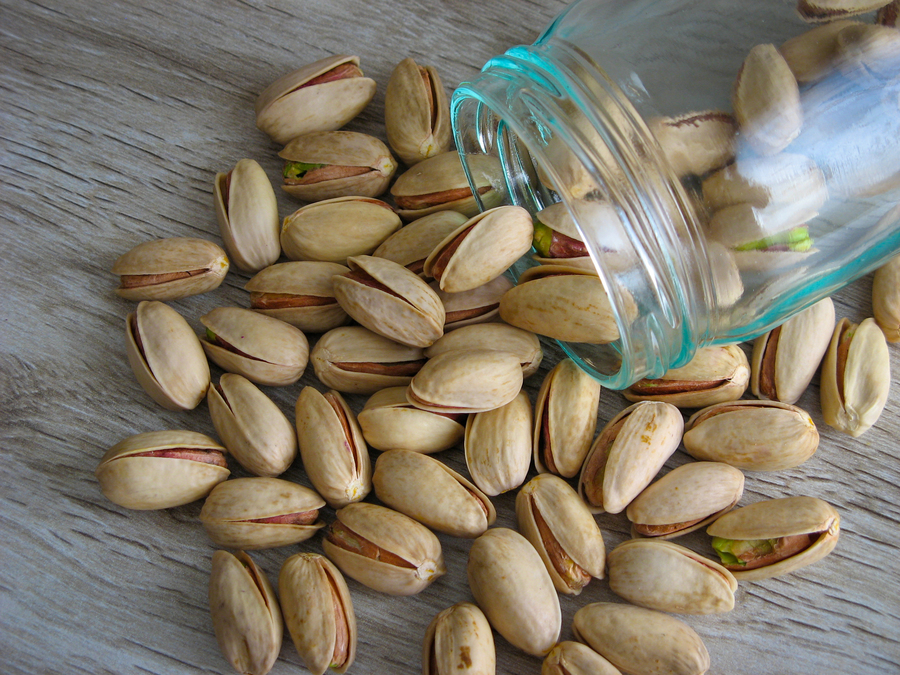 Men's blood pressure is another element of both cardiovascular health and erectile function. High blood pressure over time can damage your arteries, including those in your penis, which impedes the flow of blood necessary to strengthen your erection. Working and eating to lower blood pressure, therefore, will have a beneficial effect on erectile health.
Research has shown that eating one serving per day of pistachios can lower your blood pressure and increase your ability to get and maintain an erection.  The typical serving size of pistachios Is one ounce or about 49 kernels. 
3. Peanuts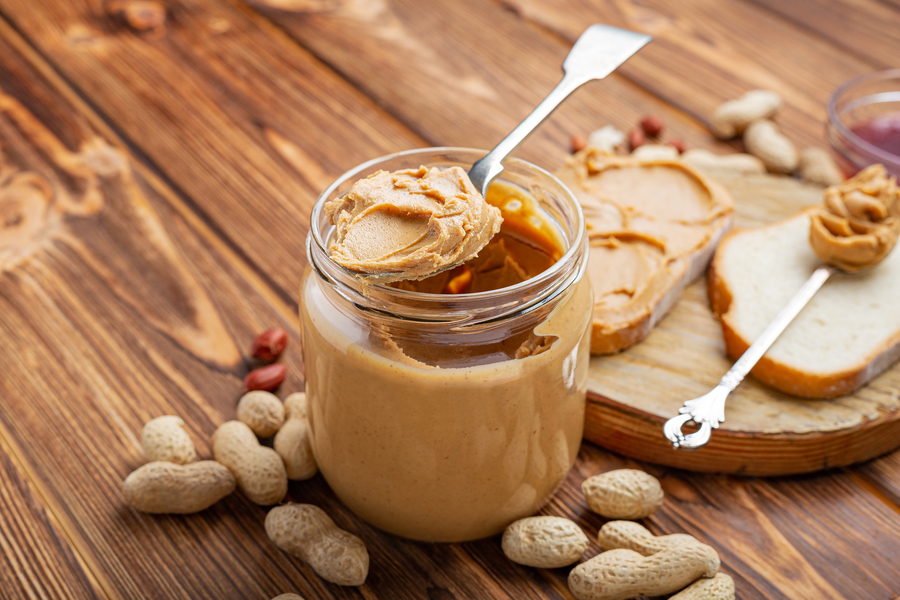 Research has shown that eating peanuts regularly can lower the risk of heart disease for men and women. The study from an international group supported earlier work by Harvard-led research and helped confirm that men who regularly ate peanuts and other nuts were substantially less likely to die of any condition, and particularly, of heart disease. These facts may be due to the shown benefit of replacing your protein intake with non-meat options, which can lower your overall cholesterol.
Eating either 28 grams of peanuts or 16 grams (1 tablespoon) of peanut butter five times a week or more a week will have a very beneficial effect on lowering your cholesterol and reducing the strain on your heart and vascular system.
4. Avocados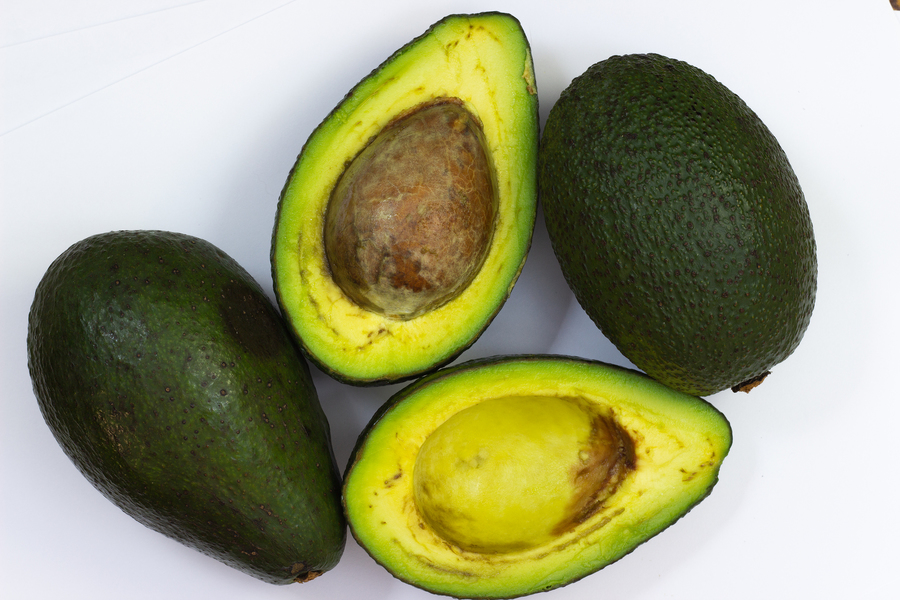 Avocados are full of heart-healthy monounsaturated fats. In addition, avocados both reduce levels of LDL cholesterol (the bad kind) and raise levels of HDL (the good kind). Eating avocado also helps the body absorb beta-carotene and lycopene, two important carotenoids essential for a healthy heart.
While avocados are good for your heart and blood flow, they also they're also rich in vitamin B6 and folic acid, both of which are necessary for proper hormone production. Men need a healthy level of testosterone and prolactin to fuel their sex drive, the first step in the mechanics of getting an erection. Avocados stimulate the production of all of these hormones.
5. Bananas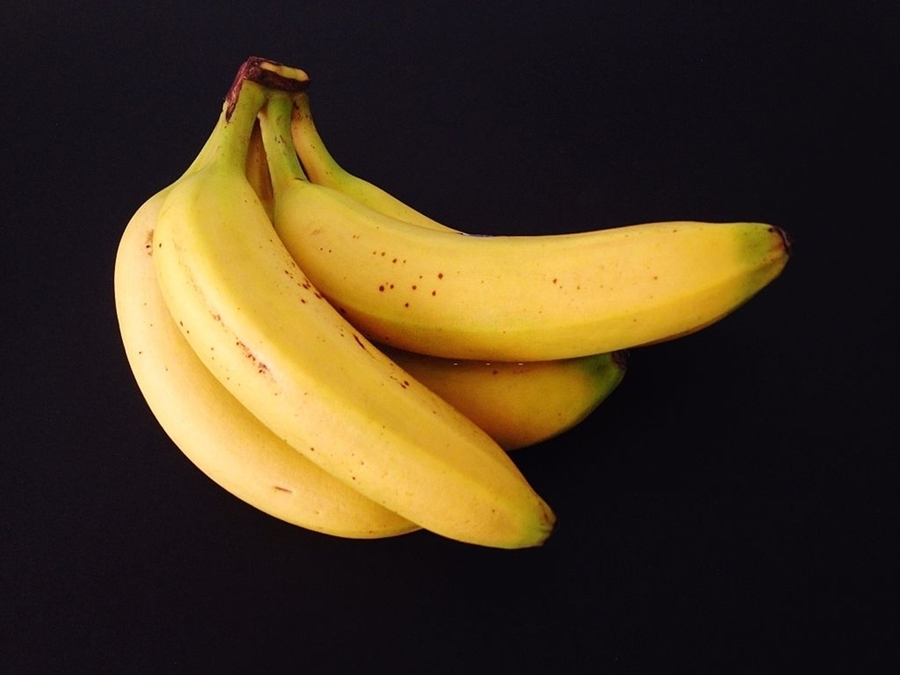 Bananas are full of energy, potassium, and B vitamins, all of which are good for your circulation and healthy blood flow. Most men need 3,400mg of potassium each day.  and one banana provides about 400mg of that amount.
Since research shows that low potassium levels can contribute to cardiovascular disease, and as most people do not get enough daily potassium, it is a good idea to increase your intake.
As a bonus, bananas are portable, inexpensive, and very convenient to add to your diet, either with peanut butter as a meal or as a snack on the go.
6. Dark Chocolate


Dark chocolate – with cocoa content of at least 70% – is surprisingly healthy. Eating reasonable amounts of dark chocolate helps make arteries more flexible, and prevents white blood cells from sticking to blood vessel walls. According to an Italian study, eating 7 grams (a quarter of an ounce) of dark chocolate per day reduces inflammation in the circulatory system. Chronic inflammation can lead to heart disease, so reducing inflammation is key to heart health.
Sadly, the same benefits are not found in milk chocolate, but this tip is easy to integrate into your diet. Seek to eat one whole bar of dark chocolate over the course of a week.
7. Pumpkin Seeds / Pumpkin Seed Oil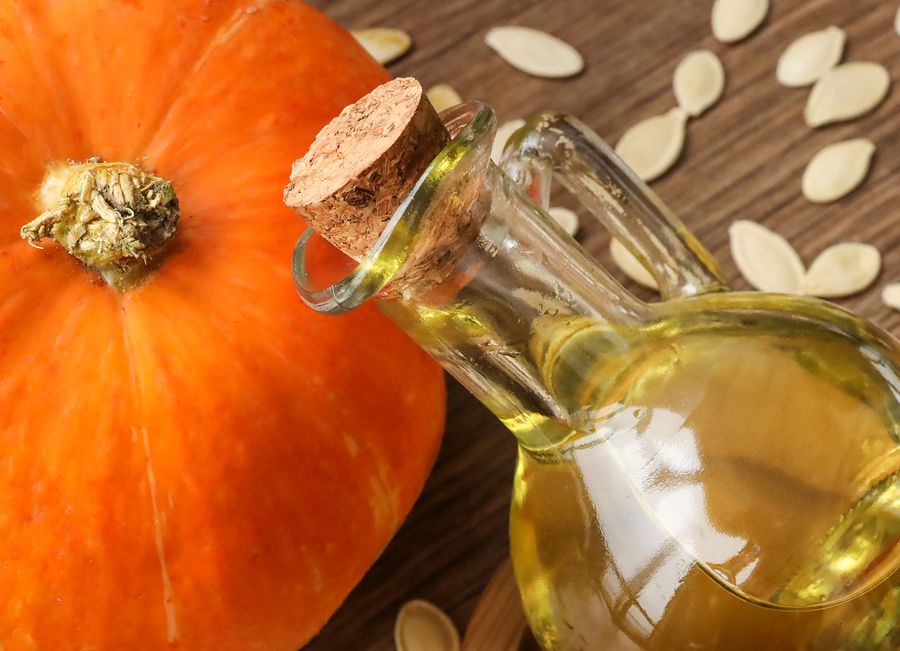 Pumpkin seeds are a good source for zinc and omega 3 fatty acids, along with magnesium, manganese, copper, protein, and plant substances called phytosterols. They're also a good source of antioxidants and are high in fiber.
The magnesium in one-quarter cup of pumpkin seeds can make up nearly half your recommended daily amount of this important mineral. Magnesium is necessary for the synthesis of RNA and DNA, proper pumping of the heart, and relaxation of blood vessels. It also benefits blood pressure and can prevent a cardiac event like a heart attack.
Pumpkin seeds and oil made from roasted pumpkin seeds are especially good for men's health because the zinc found in them is necessary for a healthy prostate gland. In fact, pumpkin seed oils are being studied as a possible treatment for benign prostatic hyperplasia (BPH, also called enlarged prostate). Roasted pumpkin seed oil isn't good for cooking because it has a low smoke point, but it has a delicious, nutty taste and is terrific in salad dressings.
8. Pomegranate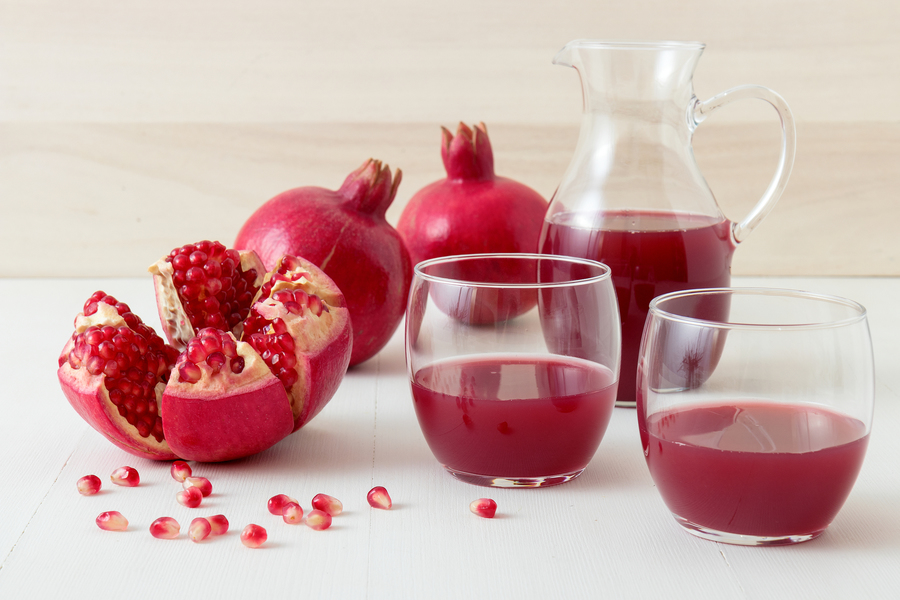 Native to Iran, the benefits of the pomegranate far outweigh the trouble of dealing with the pomegranate's spiky skin and staining juice. Potassium and vitamin C are two of the many important nutrients found in pomegranate, and one study found that men who drank eight ounces of pomegranate juice per day had lower levels of prostate-specific antigen (PSA) than those who did not. Elevated PSA levels are associated with prostate cancer, enlarged prostate, and urinary tract infections.
Perhaps the easiest way to enjoy pomegranate is in pomegranate juice, which you can buy already made. Just read the ingredient list and make sure pomegranate juice itself is a top ingredient because some so-called pomegranate juice mixes are mostly apple and grape juice.
Consider combining foods
One of the best things about these erection-friendly foods is how well many of them can be combined. Roasted pumpkin seeds coated in dark chocolate make a satisfying sweet-salty snack, and mashed avocado can be used as a substitute for some or all of the butter in many of your favorite recipes. Bananas and nuts go great with dark chocolate (and with each other), and toasted pumpkin seed vinaigrette is the perfect topping for pomegranate salad.
Erectile health and overall health are intricately intertwined, and many doctors who prescribe medications like Viagra advise their patients to eat healthier foods and make healthier lifestyle choices for better erections. At eDrugstore.com, we are dedicated to the overall health and well-being of our customers, and we encourage you to visit us to learn more about how lifestyle changes and medication can help you improve your erectile dysfunction.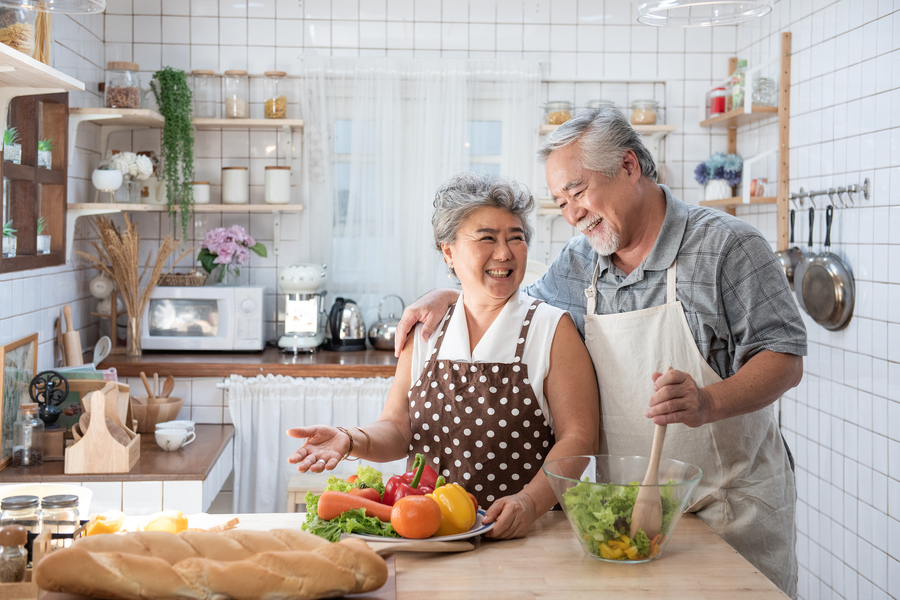 Elizabeth Nichols is an experienced and flexible author with extensive experience in both popular media and academic publishing. She specializes in health, medical and travel writing.