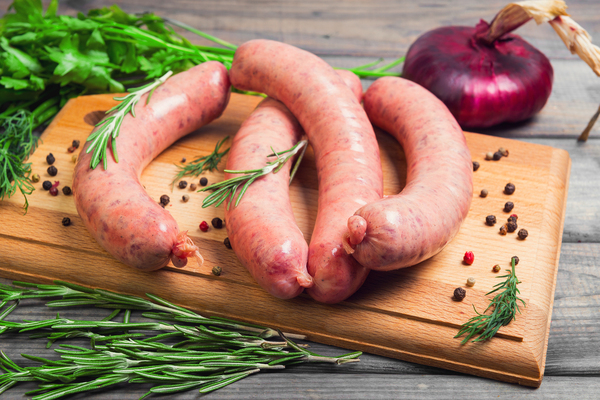 The news has been abuzz recently with reports from Ireland and the United Kingdom about a new line of pork sausages with a somewhat provocative brand name. The brainchild of an Irishman from County Kerry who's now a transplant to the United Kingdom, SOS Viagra Sausages pack a few extra ingredients that are said to help overcome the symptoms of erectile dysfunction.
Despite the name, the sausages contain no Viagra but rather a potent combination of herbal ingredients that have long been used by folk medicine practitioners to combat the effects of ED and assorted other ailments. In addition to pork, these special bangers contain red Chinese and Siberian ginseng, horny goat weed, and L-arginine.
Efficacy Not Yet Determined
How effective these special sausages are against ED has not yet been ascertained, but it turns out that the creator of this very special sausage line has some higher goals in mind. The "SOS" in the brand name stands for "Save Our Sausages," a somewhat humorous slogan that sausage creator Matt O'Connor hopes will get consumers thinking about some very serious health issues facing men today.
In an interview with Aly Walansky for an article posted at BravoTV.com's The Feast blog, O'Connor said he'd been a longtime fan of the late American comedian Robin Williams, "whose humor kept me going through hard times. . . ." O'Connor went on to say that he thought "if we could get people laughing," it might be possible to stimulate conversation about some of "the deadly serious health issues facing men."
Founder of Fathers4Justice
O'Connor is no newcomer to the crusade for men's issues. In 2001 he founded Fathers4Justice, which is dedicated to the causes of family law reform, equal parenting, and equal contact for divorced parents with children. That organization grew out of a bitter personal experience for O'Connor that followed a difficult divorce, after which he was at least temporarily denied access to his two sons from that marriage
.
That experience along with business and other personal setbacks plunged O'Connor into a deep depression that at one point pushed him toward suicide. A marketing consultant by trade, O'Connor is equally passionate about a number of other men's causes. He has directed that a portion of the proceeds from sales of SOS Viagra Sausages go to men's charities, including Checkemlads, a testicular cancer awareness organization. Other charities that will benefit from the sales of O'Connor's sausage line are AndysManClub, an anti-suicide support group for men, and Combat Stress, a charity dedicated to helping military veterans with mental health issues, such as post-traumatic stress disorder.
Sausages Produced in Ireland
O'Connor's sausages are produced by Sasta Sausages in the entrepreneur's home county in Ireland. As of this writing, SOS Viagra sausages are available for sale at Tralee Farmers Market in County Kerry and at The Butchery in London. O'Connor hopes to expand sales to other retail outlets in the months to come.
While emphasizing that the main motivation for launching this unique line of sausages was to promote greater awareness of men's health issues, O'Connor explains that the sausages do contain herbal ingredients that have a long history of use in treating ED.
The sausages contain two different types of ginseng, a medicinal root with a name of Chinese origin that translates roughly into "man plant," a reference to the appearance of the root and not necessarily the uses to which it's put. Red Chinese ginseng, which also grows in Korea, is known scientifically as Panax ginseng. Panax is the Greek word for panacea, which is a good description of the wide uses to which practitioners of traditional Chinese medicine have put this form of ginseng. In addition to relieving erection problems, red ginseng is said to increase energy, decrease stress, boost the immune system, improve heart health, and treat diabetes.
Siberian Ginseng
The other ginseng in SOS Viagra Sausages is the Siberian variety, which is not a true ginseng but rather a distant cousin to other Panax species. Known scientifically as Eleutherococcus senticosus, Siberian ginseng is often called an adaptogen, defined by MedlinePlus as a "non-medical term used to describe substances that can supposedly strengthen the body and increase general resistance to daily stress." Because stress can contribute to erection problems of a psychological disorder, this property of the herb might be helpful to address this form of ED.
Another herbal ingredient in SOS Viagra Sausages is horny goat weed, which also is used widely in traditional Chinese medicine. The herb's active ingredient is known as Epimedium, and it's prescribed by folk medicine practitioners to treat not only erection problems but also low libido, fatigue, pain, atherosclerosis, and osteoporosis. WebMD.com reports that a 2008 study indicated horny goat weed's active ingredient works very much like the PDE5 inhibitors, such as Viagra, Levitra, and Cialis. All temporarily block the effects of an enzyme know as phosphodiesterase-5 that can interfere with blood flow to the penis, particularly in men whose vascular systems are already compromised. While this study's findings are promising, WebMD points out that they are based solely on experiments in a laboratory and that human clinical testing has yet to be done.

L-Arginine Is Another Ingredient
The final erection-friendly ingredient in SOS Viagra Sausages is L-arginine, a naturally occurring amino acid, which like all amino acids serves as a building block for proteins. However, L-arginine is also a chemical precursor of nitric oxide, which plays a key role in the erection process. Nitric oxide sets in motion a series of chemical reactions that result in the relaxation of the smooth muscles that line the inner walls of arteries. As these muscles relax, the arteries expand, optimizing the flow of blood they can carry. Strong blood flow to the penis is essential for an erection to be achieved.
Insufficient blood flow to the penis accounts for as much as 80 percent of all erectile dysfunction. Underlying health conditions such as diabetes, atherosclerosis, heart disease, and even obstructive sleep apnea can sharply increase a man's risk of developing erection problems. Unhealthy lifestyle decisions such as smoking, alcohol abuse, obesity, unhealthy eating habits, and a lack of exercise also sharply increase a man's risk of ED.
ED of Psychological Origin
While blood flow-related problems account for the vast majority of all erectile dysfunction diagnoses, 10 to 20 percent appear to be psychological in origin. Depression, anxiety, relationship problems, and stress all can lead to erection problems, which are less amenable to treatment by medication than vascular-related ED. Men with ED of psychological origin need to seek the counsel of medical professionals who can help them work through the mental and emotional problems that are interfering with erectile function.
If you'd like to stay abreast of the latest developments on the consumer health front, check out our blog.
We specialize in providing our over 1,000,000 customers with relevant product and condition information created by our professional editorial staff which includes our team of medical writers, medical practitioners, and health educators. eDrugStore.com Staff on Facebook