A new clinical study has found that the zebrafish can regenerate brain cells and ameliorate the plaques and tangles that are hallmarks of Alzheimer's disease through the use of PDE-5 inhibitors such as sildenafil (Viagra). PDE-5 inhibitors show potential as the first-ever treatment for central nervous system diseases like Alzheimer's and Huntington's. The study was published in the journal PNAS in June 2020.
What in the world could zebrafish and Viagra have in common?
Believe it or not, they may both hold clues to solving the mystery of how to cure central nervous system disorders like Alzheimer's disease. New clinical study results give researchers a promising lead toward finding an effective treatment for Alzheimer's and other neurodegenerative diseases like Huntington's and Parkinson's.
The secret is in the little blue pill otherwise known as Viagra.
The new study shows that the mechanism behind PDE5 inhibitors like Viagra, Cialis, and Levitra could lead to a treatment for Alzheimer's disease.
The new study shows that the mechanism behind PDE5 inhibitors like Viagra, Cialis, and Levitra could lead to a treatment for Alzheimer's disease. 
How PDE5 Inhibitors Work
PDE5 (formally known as phosphodiesterase type 5) is an enzyme responsible for cell signaling within the body. The cells of the human body are constantly communicating with each other through enzymes like PDE5.
To stimulate an erection, for example, PDE5 triggers the release of nitric oxide in the body. Nitric oxide then causes the conversion of one enzyme (guanosine triphosphate, or GTP) to another — cyclic guanosine monophosphate (cGMP). cGMP is responsible for relaxing the smooth muscles of the penis so that blood can flow freely and produce an erection.
To oversimplify a bit, PDE5's job is to degrade cGMP when its level in the body is high. This degradation is a natural process, but it can sometimes lead to erectile dysfunction. PDE5 inhibitors like Viagra raise the cGMP to a level high enough to attain and sustain an erection.
Alzheimer's and Proteins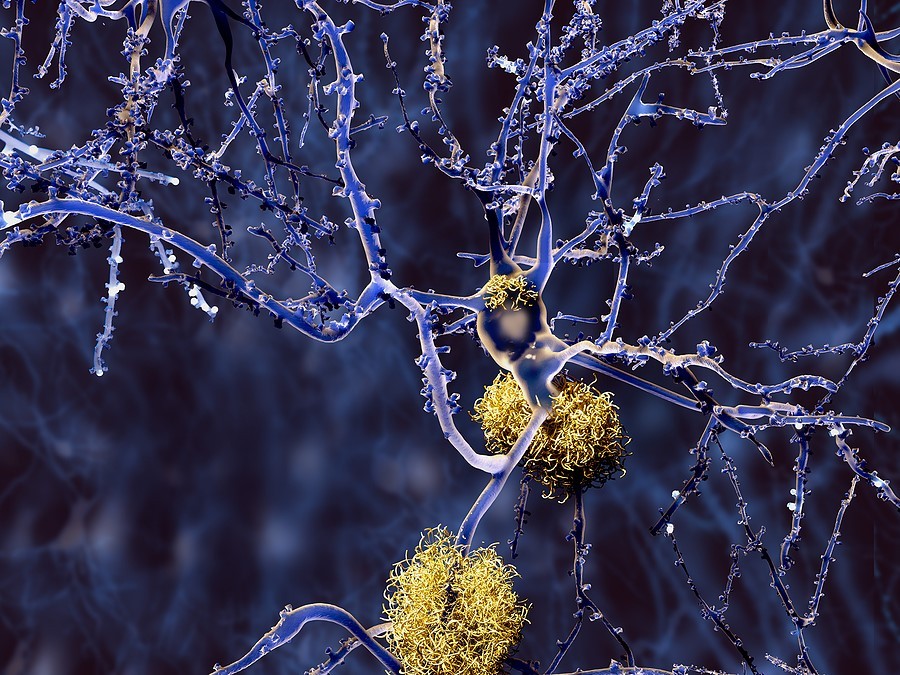 Neuron with amyloid plaques
For some time, scientists have known that the mechanism that raises cGMP levels in the penis can do the same for the brain of an Alzheimer's patient. As the brain ages, it has increased levels of PDEs and reduced levels of cGMP. These changes can cause a deterioration of the body's protein "quality control" system. 
One of the hallmarks of Alzheimer's disease seen on the brain at autopsy is the development of accumulations of misfolded proteins. These defective proteins occur naturally in the body and are usually cleaned up by proteasomes, protein complexes whose job it is to degrade damaged or unneeded proteins.
Proteasomes know which proteins to remove because of a molecule attached to them called ubiquitin.
But the system doesn't always work as expected.
Scientists have long suspected that Alzheimer's results from a communication breakdown in the proteasome-ubiquitin relationship that causes the damaged proteins to accumulate and form beta-amyloid plaques. These plaques can then trigger tau tangles. 
When plaque formations accumulate, tau can collapse and twist into tangles, eventually destroying neurons in the brain. 
Tau is another protein associated with Alzheimer's disease. Tau is responsible for supporting the structure of neurons and delivering nutrients through microtubules. When plaque formations accumulate, tau can collapse and twist into tangles, eventually destroying neurons in the brain. Then, in the final stage of Alzheimer's, the brain begins to atrophy (shrink).
(For more about plaques and tangles, see this excellent short video by Interact Well Care.)
Zebrafish and Sildenafil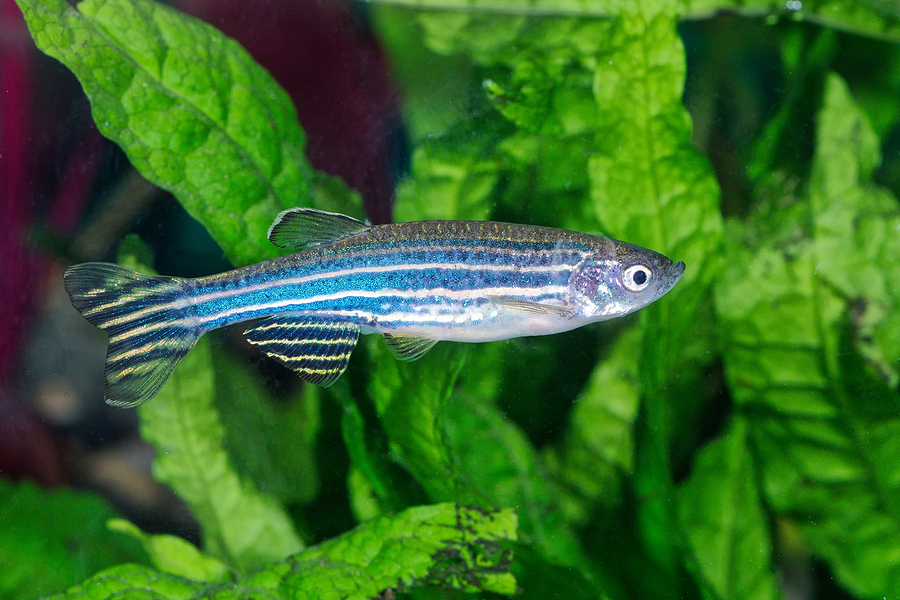 Here's how the zebrafish fits in. The connection between zebrafish and Alzheimer's has to do with a process called adult neurogenesis. The zebrafish has the extraordinary ability to regenerate brain cells (and other body parts) that are damaged from injury or disease.
Strangely enough, the zebrafish is related to humans by evolution and has the same brain cell types. This similarity makes them a fruitful source of study in the search for cures for central nervous system diseases like Alzheimer's and Parkinson's.
The new study investigated the brain cell regeneration ability of zebrafish and the effect of PDE5 inhibitors on the process. The researchers genetically modified zebrafish to display the plaques and tangles seen in Alzheimer's disease. They then treated the fish with PDE5 inhibitors.
They discovered that the PDE5 inhibitor sildenafil almost immediately repaired the ubiquitination process, raised the fish's cGMP level, and stimulated the proteasomes to clear the damaged proteins and reduce cell death. 
And it did all this with no signs of adverse effects.
Implications for Alzheimer's Disease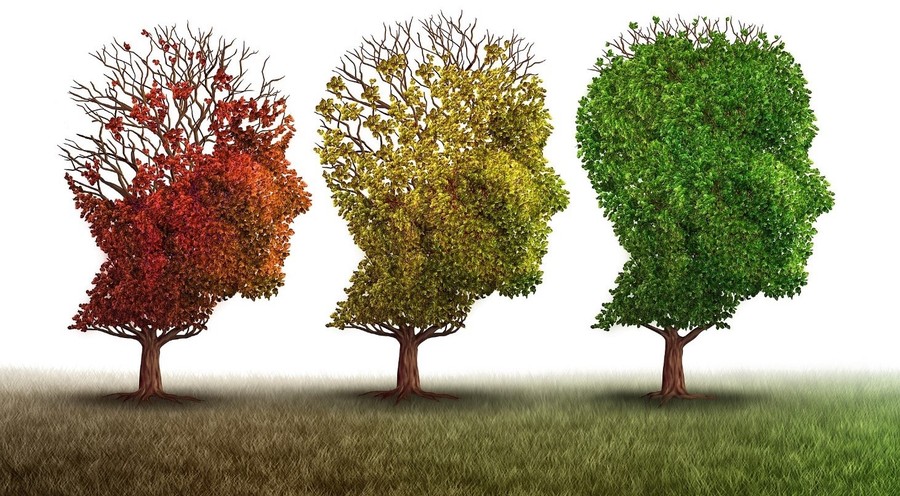 Adverse side effects can often be a sticking point in the development of new drugs. The authors of an earlier study on PDE-5 inhibitors and memory in mice noted that sildenafil's side effects are well known, and there is no contraindication to its use with seniors with cognitive decline.
The new evidence that PDE5 inhibitors raise cGMP levels and activate the protein degradation process has exciting implications for people with neurodegenerative disease.
Understanding how the zebrafish regenerates brain cells with PDE5 inhibitors could lead to a treatment that will disrupt the process of abnormal cell death in the human brain and possibly reduce damage already done.
A word of caution: Never use PDE-5 inhibitors if you take a nitrate medication for heart disease. 
For now, however, researchers are working on creating a novel (new) PDE-5 inhibitor that is tailor-made for use with Alzheimer's patients. The PDE-5 inhibitors currently used to treat erectile dysfunction and pulmonary hypertension are not ideal for the treatment of Alzheimer's for various reasons.
The data are promising, and the research continues.
For an excellent demonstration of how Alzheimer's affects the brain, visit the Alzheimer's Association. 
If you're interested in learning if a PDE5 inhibitor could improve your sexual function, please visit our erectile dysfunction page.
Paula Clark worked in the healthcare industry for 17 years before becoming a full-time freelance health and medical writer. Her clients appreciate her ability to convey complex information in terms laypeople can understand. Paula prides herself on the depth and accuracy of her research. Her goal is to add authority to your site in words that will delight both Google and your readers.