Highlights
Cialis for daily use is FDA-approved to treat enlarged prostate and erectile dysfunction (ED). 
The medical term for an enlarged prostate is benign prostatic hyperplasia (BPH). This condition is common in older men.
BPH can cause pelvic pain, bladder problems, and complications like urinary tract infections. It can also cause sexual dysfunction, such as ED.
Benign prostatic hyperplasia (BPH) is a natural part of growing older for many men, and it often goes hand-in-hand with erectile dysfunction (ED). Cialis (tadalafil) is a PDE5 inhibitor, a class of drugs that includes Viagra and Levitra that are prescribed for ED.
But Cialis is different from other PDE5 inhibitors because it comes in a daily form, where all of the others are taken as needed. Many men ask if it's safe to take Cialis, a medication meant to be taken every day, if they have BPH.
Read on to learn more about BPH and erectile dysfunction. But first, let's see what the FDA has to say about the issue.
Is Cialis Approved to Treat an Enlarged Prostate?
The answer is yes, Cialis for daily use has been approved by the Food and Drug Administration (FDA) to treat BPH. This makes Cialis the only drug on the market approved to treat both BPH and erectile dysfunction (ED). Tadalafil daily use is the generic version of Cialis for daily use, and it can also be used to treat both conditions.
Traditional Cialis, taken as needed, is not approved to treat BPH. The Cialis for daily use and tadalafil for daily use are lower doses than the as-needed versions, prescribed at only 5 milligrams per tablet. A medical provider, such as a urologist, must prescribe Cialis.
What is Benign Prostatic Hyperplasia (BPH)?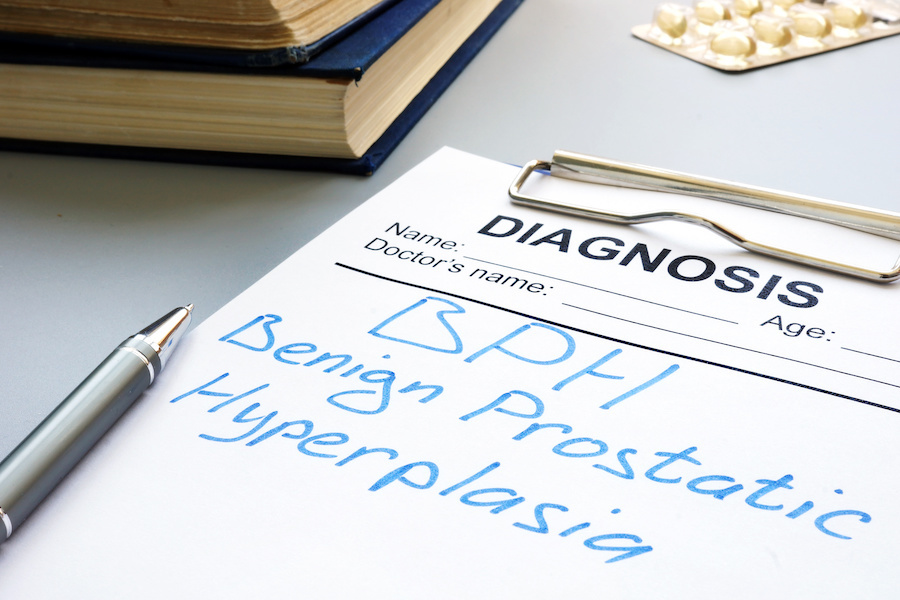 Benign prostatic hyperplasia is a common condition characterized by prostate enlargement. BPH can cause mild to severe urinary symptoms, pain, and forms of sexual dysfunction. Your risk for BPH increases with age.
Symptoms of BPH include:
Dribbling at the end of urination
Frequent urination at night (nocturia)
Inability to empty the bladder
Needing to urinate urgently
Pelvic pain
Urinating more frequently
Weak urine stream
If left untreated, BPH can cause severe discomfort or medical complications. Most men with BPH do not develop severe complications, but symptoms do tend to become worse over time. Complications of BPH may include:
Bladder damage
Bladder stones
Blood in urine
Inability to urinate
Kidney damage
Kidney stones
Urinary tract infection (UTI)
What Causes BPH?
The exact cause of BPH is unknown. Your prostate naturally enlarges as you age, which is why BPH is more common in older men. BPH can be linked to age, hormonal changes, or other medical conditions, such as prostate cancer, that cause the prostate to enlarge.
The major risk factors for BPH include:
Aging. Close to one-third of all men will experience BPH by the age of 60 or older. By 80, nearly 90 percent of men report BPH symptoms. It's rare for men under 40 to be diagnosed with BPH.
Genetics and family history. Prostate conditions like BPH tend to run in the family. Having a blood relative with prostate problems increases your risk of experiencing BPH and other prostate conditions.
Lifestyle factors. BPH is linked to obesity. Exercise and a balanced diet can help to reduce your risk of BPH.
Medical conditions. Chronic conditions, like diabetes and heart disease, can increase your risk of BPH. High blood pressure, high blood glucose, metabolic syndrome, and taking beta blockers have also been linked to BPH.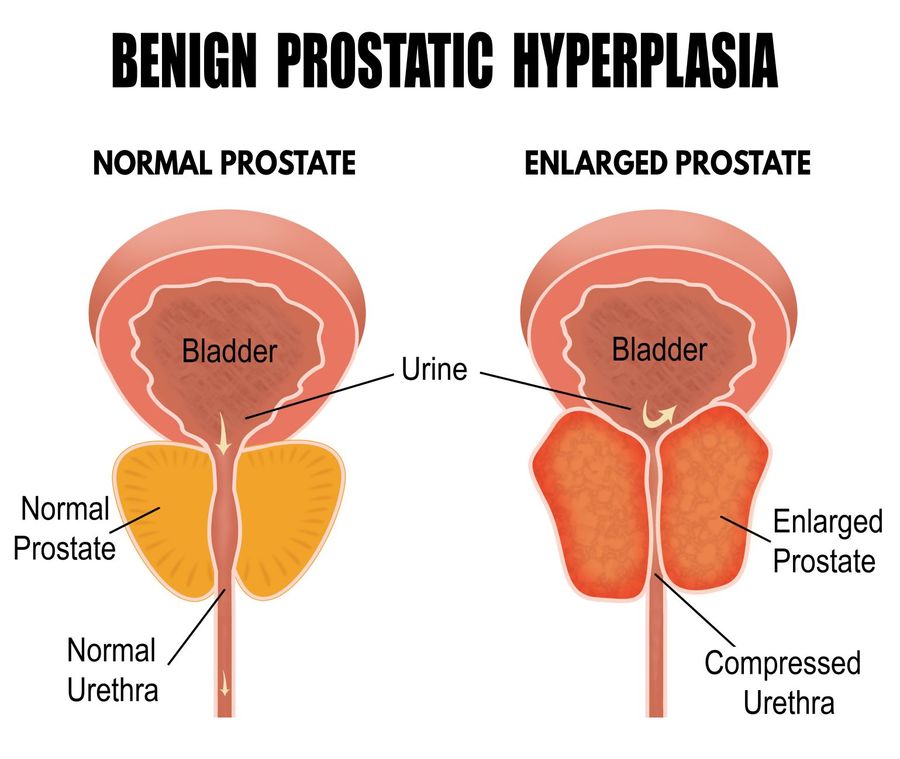 How Do I Know If I Have BPH?
A medical provider must diagnose you with BPH. You should always take urinary problems seriously and see a provider if you are unable to urinate. Your provider can rule out other conditions, diagnose the condition, and help you to find the best treatment plan for your lifestyle.
Your provider may use one or more of the following methods to diagnose you with BPH:
Blood test. They will likely run a standard blood panel to check your kidney function and rule out other conditions.
Prostate-specific antigen (PSA) test. PSA is made in your prostate and levels increase with prostate enlargement. They will want to check your PSA levels and determine if they are high enough to warrant concern. PSA levels can also temporarily increase after surgery or infection.
Rectal exam. The most straightforward way to determine if your prostate is enlarged is for your doctor to perform a digital rectal exam. Your doctor will insert a gloved finger into your rectum to check for prostate enlargement.
Urine test. Taking a urine sample is a standard procedure when a patient reports bladder or urinary problems. This can rule out other conditions or determine if you have complications, such as a urinary tract infection (UTI), related to BPH.
Your provider may need to run additional tests to rule out other conditions. For more complex cases of BPH, they may wish to perform more advanced exams or procedures. These exams may include a urine flow test, ultrasound, or biopsy. 
How is BPH Treated?
Fortunately, there are several effective treatments on the market for BPH. Your treatment may include oral medication, surgery, or lifestyle changes. You and your provider can work together to determine the best treatment plan for your condition.
Many mild cases of BPH are not treated but instead, are watched closely for worsening symptoms or sudden changes. More complex cases may be treated with a minimally invasive procedure or a combination of treatments.
Your treatment plan may depend on your:
Age
Health status
Severity of prostate enlargement
Severity of symptoms
Common treatment options for BPH include:
Active surveillance of the condition. Your provider will closely monitor your condition, ensuring it does not worsen or cause more severe symptoms. This is standard practice for mild cases of BPH.
Medication. Prescription medications commonly used to treat BPH include alpha blockers, 5-alpha reductase inhibitors, herbal treatments, and Cialis for daily use. Your provider may wish to use a combination of prescription medications to treat your condition.
Minimally invasive procedure or surgery. A surgery is "minimally invasive" if it involves no cuts or small cuts to perform the procedure. These may include a prostatic urethral lift (PUL), water vapor thermal therapy, transurethral microwave therapy (TUMT), or catheterization.
More invasive surgery. Severe cases of BPH may require more invasive surgery, such as transurethral incision of the prostate (TUIP), transurethral resection of the prostate (TURP), prostatectomy, or similar surgical procedures.
Is it Possible to Have ED and BPH at the Same Time?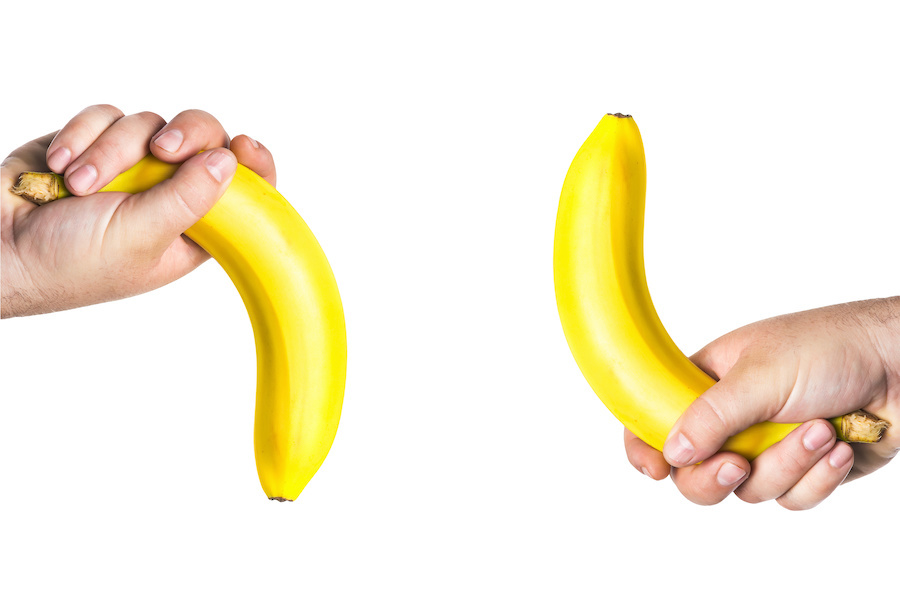 ED is the inability to achieve or maintain an erection. Conditions that affect the prostate, like BPH, can also negatively affect sexual function. Men with BPH are more likely to also experience ED.
Research demonstrates a clear link between ED and prostate problems. And a recent study has shown that combination treatments using tadalafil are most effective at treating both ED and urinary problems. Cialis has become a popular go-to treatment for both BPH and ED. 
Find Support with eDrugstore.com 
A medical provider can help you to identify the cause of and best treatment options for your ED and BPH. In fact, you can speak to a provider and browse your treatment options at the click of a button with eDrugstore.com.
We carry the most well-researched and effective treatments for ED. All treatments offered are approved for use in treating ED by the FDA. These ED treatment options include:
Follow our blog to learn more about ED and other sexual health topics. If you would like to explore your treatment options, you can speak to a medical provider for free by calling 1-800-467-5146, or by visiting our erectile dysfunction page today!
Shelby is a public health professional with research and field experience in sexual and reproductive health. She holds a Master of Public Health (MPH) and is a Certified Health Education Specialist (CHES).