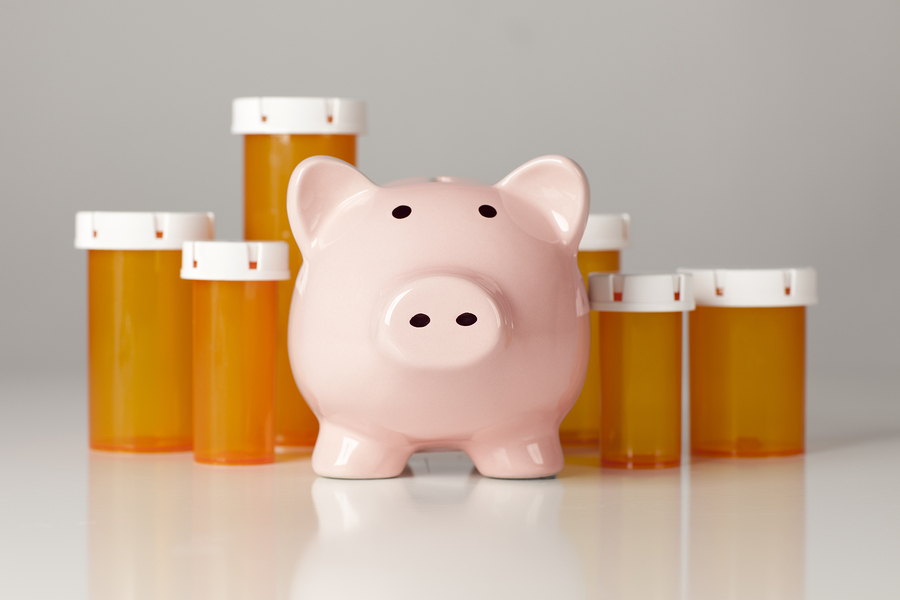 Investors in the pharmaceutical company that markets the first female prescription to treat low libido are claiming that the drug is being over-priced, according to a recent Bloomberg report.
Sprout Pharmaceuticals, which was bought by industry giant Valeant Pharmaceuticals International Inc. last year, produces the first FDA approved treatment for female low sexual desire, Addyi, which according to claims, is being sold at double its original estimated price-point.
According to reports, the accusations were compiled in a letter from Sprout shareholders, which claimed that Valeant has threatened the commercial success of Addyi through overpricing and by neglecting to market the drug properly- as promised within the merger agreement with Sprout.
The group making these claims represented all of Sprout's shareholders during the period of time (August 2015) when it was sold to the Canadian drug company for $1 billion.
How is Addyi Priced?
The investment group contends that Valeant has set the price of Addyi at approximately $800 per month, despite the fact that Sprout had already established, through extensive market research that the best price point for the drug should be about $400 a month.
The group of investors further contend that because of this inflated price point, most insurance companies are refusing to cover the drug, which essentially makes it unaffordable for the millions of women who might seek a prescription.
The ironic component in this overpricing issue is that according to a report in Business Journals at the time of the merger, Spout merged with Valeant in part because combining resources gave greater ability to make Addyi affordable and more easily accessible to the patient who would benefit from it. Sprout stated at the time that its mission was to make the drug something that fits into any budget.
Sprout even went as far as to devise a program that would offer women Addyi for $20 per month, provided their health insurance covered the drug. If the patient lacked coverage, Sprout stated it would offer the drug for $20 per month for the first three months.
Both Valeant and Sprout had big sales forecasts for Addyi, projecting $1 billion in sales over the first seven quarters of distribution, according to the Bloomberg report. But, Addyi has experienced lackluster interest since its launch last October, and investors are blaming the inflated price as a key factor.
Facts Know About Addyi
Known as the little pink pill, and often called "female Viagra", though it works quite differently, the women-only libido drug Addyi (flibanserin), was approved in 2015 by the FDA.
It will not produce instant (one-hour) results like Viagra: While Viagra treats a blood flow or "mechanical" issue required for sex within a male's penis, the main issue with erectile dysfunction, Addyi, addresses three key chemicals in the brain which are connected to expected/natural sexual response.
Addyi (Flibanserin), started out as an antidepressant, and works by increasing dopamine and stimulates certain receptors in the brain while blocking others. Because of this, taking herbal supplements with it is not recommended and should be discussed with your doctor.
Increased sexual desire typically results from taking Addyi daily for up to a month before you may experience any of the drug's positive effects. Addyi is an oral medication that could not be simpler or more convenient to use. You take your dose regularly at bedtime, and can expect to see initial benefits within the first four weeks. But, it may take up to eight weeks to feel the full effect of this medication.
What Happens Now with the Pricing?
According to a Bloomberg report, the investors who backed Addyi want answers and requested documented materials that prove that Valeant can fulfill its obligations that were promised within the merger agreement with Sprout. They are seeking proof that two key components of the agreement are still in place:
Evidence that in conforming to the merger agreement, Valeant still has strategic plans in place for a $200 million for marketing, research and development campaign for 2016 and half of 2017 for Addyi.
Proof that Valeant fully intends to keep a sales force of 150 people to distribute Addyi.
Valeant responded to the claims and demand for proof by stating that it is continuing to work closely with pharmacists, healthcare providers, and patients to educate them about the drug.
"Valeant intends to comply with all of its obligations under our agreement with the former shareholders of Sprout, including, as they relate to marketing spend, number of sales reps, and post-marketing studies," stated Laurie Little, a Valeant spokeswoman.
Who Can Benefit from Addyi?
About 40 percent of females experience some form of female sexual dysfunction, ranging from mild to severe. One specific type, which impacts premenopausal women, is hypoactive sexual desire disorder. It affects nearly 1 in 10 women, according to the National Institute of Health, making the disorder the most commonly reported form of female sexual dysfunction.
Since the 1998 FDA approval of Viagra, the number one prescribed medication for male impotency, women with sexual dysfunction have been left with few treatment options, personal shame, being told they are simply "depressed" or getting older, and stuck with seeking help through herbal supplements that usually fall short of their claims.
According to clinical trial data from Sprout Pharmaceuticals, makers of the drug, females who took the Addyi experienced a 53 percent increase in sexual desire in comparison to how they rated their libido before the trials. Most women experienced benefits as soon as four weeks of taking Addyi, over a 24-week trial period.
What is Hypoactive Sexual Desire Disorder?
HSDD has been medically recognized for more than 30 years, yet treatment for the disorder has been very limited. Patients who suffered from the disorder had few options other than herbal therapies that lacked any proven results and psychological therapy.
How do you know if you have HSDD? The criteria for diagnosis includes a persistent deficiency or absence of sexual desire and fantasies, as judged by your doctor, and this disturbance should cause distress or a strained relationship for the patient.
Your doctor should also rule out the possibility that the dysfunction stems from a co-occurring medical or psychiatric condition, relationship difficulty, or the use or abuse of medication or another substance. The FDA further specifies that flibanserin is intended for acquired, generalized HSDD:
"HSDD is acquired when it develops in a patient who previously had no problems with sexual desire. HSDD is generalized when it occurs regardless of the type of sexual activity, the situation or the sexual partner."
The Side Effects of Addyi:
As with most prescribed medication there are side-effects you should know about. Addyi's label includes warnings not to take the medication if you:
Drink alcohol: Fainting or loss of consciousness can happen when you take Addyi even if you do not drink alcohol or take other medicines or herbal supplements. This is also why you take it at bedtime. Your risk of low blood pressure and fainting (loss of consciousness) is increased if the medication is taken during waking hours, if you drink alcohol, or if you take certain medicines or herbal supplements.
Take certain prescription or over-the-counter medicines, or herbal supplements: Do not take or start taking any new prescription medicines, over-the-counter medicines, or herbal supplements while taking Addyi until you have talked with your doctor. Your doctor will tell you if it is safe to take other medicines or herbal supplements while you are taking this prescription.
Have liver problems: You should not take Addyi if you have been diagnosed with liver problems.
How to Fill Your Prescription
Once you have a prescription for Addyi, it can be bought through your local pharmacy, or you can order it online through a reputable online store. Purchasing it online protects your privacy and it is delivered discretely. Other benefits of ordering online include convenience; meaning you don't need to make a special trip to your pharmacy to pick it up and often it is the most cost effective method of purchase.
Just be certain that if you are ordering online your prescription comes from an FDA-licensed distributor located in the United States. Avoid any online store that offers "generic" versions of your prescription, because there is actually no generic version for Addyi. Look to a store that is trusted, FDA-licensed, and reputable.
Since 1998, eDrugstore.com has helped more than 500,000 customers gain access to prescription medications, while offering first-class customer service and support.
We specialize in providing our over 1,000,000 customers with relevant product and condition information created by our professional editorial staff which includes our team of medical writers, medical practitioners, and health educators. eDrugStore.com Staff on Facebook